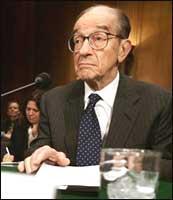 One of the first things Alan Greenspan did when he took leadership of the Federal Reserve was put together a plan to follow in the event of a market emergency. Just two months into the job, he needed it.
The stock market dropped 508 points on October 19, 1987, the biggest one-day loss since the Great Depression, sending shock waves through financial markets at home and abroad.
Greenspan quickly reassured Wall Street and Main Street that the central bank would supply all the credit necessary to keep the nation's financial system functioning. To this day, Fed watchers give Greenspan high marks for his successful handling of 'Black Monday' and say it highlights one of his finest skills.
"Crisis management has been elevated to a very fine skill under his tutelage," said Lyle Gramley, a former member of the US Fed board.
Greenspan has been tested through other trying economic times, including a worldwide financial crisis prompted by Asian currency woes in 1997; two recessions, one in 1990-1991 and another in 2001; the bursting of the stock market bubble in 2000 that wiped out trillions of dollars in investor wealth; and the September 11, 2001, terror attacks.
With Greenspan, 79, expected to retire early next year, economists and other Fed watchers are debating what defined the Greenspan era at the central bank and what his legacy will be.
That was a centerpiece topic of discussion at a two-day conference on economic policy sponsored by the Federal Reserve Bank of Kansas City in this resort community.
"While there are some negatives in the record, when the score is toted up, we think he has a legitimate claim to being the greatest central banker who ever lived. His performance as chairman of the Fed has been impressive," Princeton University professors Alan Blinder and Ricardo Reis wrote in a paper they presented at the conference. Blinder served with Greenspan on the Federal Reserve Board.
The Fed determines interest rate policies that affect any person or business that borrows money. By virtue of his position and ability to influence the economy, Greenspan is seen by many as the second most powerful person in the country.
On his watch, the US economy grew from March 1991 to March 2001, the longest continuous expansion in history. The two recessions during histenure were mild.
"Greenspan has made spectacular calls about how the economy works," said R. Glenn Hubbard, professor at Columbia University's Graduate School of Business. He is frequently mentioned as a possible successor to Greenspan.
Former Fed officials say that during normal economic times Greenspan can shape monetary policy with textbook like precision. But where he really excels, they say, is in times of crisis or unusual economic circumstances, where his flexibility, preparedness, attention to detail and judgment serves him well.
"It's when times are tough, unusual, when there is no manual you can pick up to tell you what to do and you have to figure it out on the fly. That's when the test comes. Greenspan distinguishes himself in exceptional times. He is a hall of famer," said Laurence Meyer, who served with Greenspan on the Fed.
One of those distinguishing times was during the late 1990s, Meyer and others said. Greenspan believed a key ingredient to the economy's health -- productivity -- was accelerating, even when official statistics said otherwise.
The Fed chief's belief meant he could give the economy more room to run and thus keep interest rates low without worrying about triggering inflation.
The economy boomed, bearing out Greenspan's assertion about productivity.
Greenspan's "scrutiny of details in the data, is of course, legendary. But his flexibility, his unwillingness to get stuck in a doctrinal straitjacket that becomes dysfunctional, may be his greatest strength," Blinder and Reis wrote.
One of the few criticisms of Greenspan's tenure is the Fed's handling of monetary policy during the high-flying stock market of the late 1990s. Critics contend the Fed should have started to raise interest rates earlier and more aggressively than it did to deflate the stock price bubble.
The bubble started to pop in 2000 and in March 2001 the economy slipped into a mild recession.
Greenspan has said repeatedly that if the Fed tried to burst the stock bubble, interest rates would have had to be ratcheted up so high that the result would have been a more severe recession.
The Fed also had other forces to contend with at the time of the stock market boom: the Asian currency crisis began to unfold in 1997 and eventually spread to other parts of the globe. That set the stage for the Fed to cut rates in 1998 to prevent the turmoil from hurting the US economy.
Some Fed watchers also knock Greenspan a bit for talking about all kinds of things -- energy, education, taxes, Social Security -- outside the realm of monetary policy while expecting Congress and the White House not to interfere with the Fed's interest-rate decisions.
Critics worry that Fed chiefs wading into politically charged debates could eventually threaten the board's independence.
Still, Greenspan's "saxophone played more right notes than wrong" at the Fed, Carnegie-Mellon University professor Allan Meltzer said. An aspiring musician in his younger days, Greenspan played in a dance band.
The famously opaque Greenspan is given credit for moving the Fed toward greater openness, though it's still one of the most mysterious Washington institutions.
A breakthrough came in 1994 when the board began to state when it was changing a key interest rate. Before that, Fed watchers had to monitor the markets to divine whether the central bank changed interest rates.
Eventually, the Fed began to release statements after each of its eight regularly scheduled meetings a year and did so even when rates held steady. And, this year the Fed started speeding up the release of minutes from those meetings.
(Above) Federal Reserve Chairman Alan Greenspan is expected to retire early next year. Photograph: AP/Gerald Herbert, File.