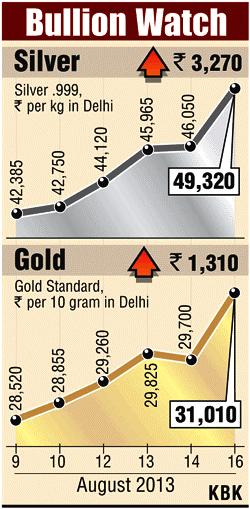 Gold on Friday surged by Rs 1,310 per 10 gram in New Delhi, the highest in two years, to Rs 31,010 on strong demand from stockists ahead of festive season, after government increased import duty on the metal to 10 per cent.

A sharp fall in Sensex and rupee against dollar and strong global cues also contributed to the upsurge in gold price, which posted the biggest single-day gain after August 19, 2011. Interestingly, the metal had shot up by Rs 1,310 on August 19, 2011 as well.

Gold has regained Rs 31,000 level after a gap of six months.

An all-time high was Rs 32,975 per 10 gram on November 27, 2012, in Delhi bullion market.

Silver followed suit and spurted by Rs 3,270 to Rs 49,320 per kg,
its biggest single day gain this year on rising demand from industrial units and coin makers.
Bullion traders attributed the sharp jump in gold prices to fear of tight supply following government's decision to hike import duty of silver and gold to narrow current account deficit.
The buying sentiment got bolstered as rupee hit record low of 62 against the US currency, making the dollar -denominated metal costlier.
Seeking to reduce gold imports, RBI also prohibited inward shipment of gold coins, medallions and dores without licence.
"Gold is back in demand as falling rupee and melting equities leaving no place for investor to park their funds," All India Sarafa Bazar vice president Surender Jain said.
He said a firming trend in overseas markets also supporting the bullion where as market hardly witness any physical buying.