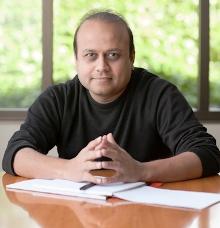 On the occasion of India's 67th Independence Day, Karl Mehta, venture capitalist and Silicon Valley technology entrepreneur, launched a unique initiative designed to get techies to volunteer their time to develop software and applications that will benefit people in India and other developing countries.

Code For India is a global community of software engineers from around the world who will be working to build technology for public service, to solve problems in the fields of education, public safety and create civic sense among people.

The project, though global, targets India at present.

Mehta, Venture Partner at Menlo Ventures, was the Founder & CEO of PlaySpan Inc. It was acquired by Visa Inc in 2011.

During a press conference over telephone on Thursday, Mehta said he was working with hundreds of silicon valley engineers and venture capitalists.

"Mobile phone adoption in India is huge and his apps will be available on even basic phones', he said.

"My engineers know the Indian environment and the apps are open source and free," Mehta told rediff.com on Thursday.

He said the idea dawned on him last year while he was working on a White House Presidential Innovation Fellow, offered by the Obama administration.

There he got involved in Hurricane Sandy project and worked with Department of Energy, with bunch of software engineers, coders giving live data.

He also worked with Federal Emergency Management Agency and that gave him first realtime insight into how to engage software developers to solve real problems which neither government agencies nor the private sector or the NGOs can solve.

"I thought why don't we create a community, "Code for India' and inspire millions of software engineers of Indian origin to come together and code," said Mehta and added, "You code eight hours every day for yourself or for any company.

"Therefore, why not volunteer eight hours a month for India."

He said Code For India is a non-profit and to run this, "We are not asking people to write checks which traditionally all the non-profits do."

He claims Code For India will probably be the only non-profit that doesn't ask anybody to donate any money, "We are purely based on crowdsourcing and bank on a high quality talent from the US as well as India."

Explaining on who are associated, Mehta said the first set of several hundred volunteers are from the Silicon Valley.

Many Indian-origin tech professionals around the world have lent their support as well.

Software engineers from Microsoft, Google, eBay, VISA and Facebook have volunteered in developing social awareness apps in the first phase of Code For India.

Potentially adding thousands of volunteers, the organisations TiE Silicon Valley, TiE Mumbai, TiE New Delhi and The Morpheus Fund have partnered with Code For India.

In addition, Professor Vijay Pande of Stanford University, Mohandas Pai, Chairman of Manipal Global Education and Vish Mishra, Venture Director at Clearstone and mentor to The Hive and The Fabric have joined the Advisory Board.

He said since the morning of the code's launch, a few thousands had signed up and the response was fantastic.

To start with, the focus would be on the education sector.

For this, they have built an app 'Adopt a School' in partnership with LiveImpact.org and Pratham, a non-profit organisation, to help access student performance data in local public schools.

The app connects volunteers at primary schools even in remote villages and gives them a tool to collect data using their mobile phone.

The application aims to increase transparency and accountability for teachers in at the crumbling public school system.

The app will help track students-teacher ratio as well as absenteeism.

This is a basic data not currently available in municipal schools in India.

"To improve the education system we need data and being a software engineers we are very good at creating tools that could bring change", Mehta said.

Second focus is on Public Safety -- "We hear about rape. People talk about it but nobody has done anything.

"Even today if somebody runs into danger and try to call the police, the police won't even arrive for an hour.

This mobile app would help women or anybody in danger.

All that they need to do, press one button, it's single crowd source SMS," said Mehta, adding, "This is also a good app to get the community members help each other."

The third app is called Spotter -- Garbage and Pothole Reporting App.

It's very embarrassing when non-Indians visiting India see garbage.

It creates a bad impression.

They think Indians lack in civic sense.

They wonder how you can have a million dollar home with garbage outside it.

"So instead of complaining and whining we have created an app.

"People can take picture and upload and the app will collect the data. It will then automatically look for the municipal office and will submit the report there," Mehta said, "It empowers the citizens to clean their neighborhood as it also empowers the government agencies to get good data."

Mehta said he has not reached out to any government agencies yet, because first he wanted to get in more volunteers, bring in NGOs and also private companies like Amazon in the US.

"If some local government wants to collaborate with us, we would be very happy to do so," said Mehta, whose mantra for India is Think Local, Hack Global"

Vish Mishra, past president TiE and advisor for Code For India, said, "This is a very ambitious undertaking.

"It aims to inspire thousands of software professionals to get engaged with the community they live in.

It allows them a chance to come up with simple solutions for complex problems. It's one the best ways to pay the society back.

"As an advisor, I intend to be active with Karl and my fellow advisors to help realize the enormous potential of this initiative", he told rediff.com.
Image: Karl Mehta