The workers at Hero's Gurgaon unit were agitating since December last year for higher wages
Finally ending the nine months of negotiations between the management and the workers at Hero MotoCorp's Gurgaon factory, the company has raised pay by around 25 per cent for the 1,200-odd permanent workers.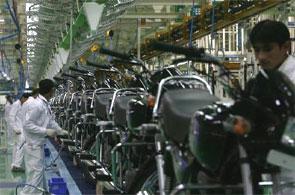 A person in the know said the monthly rise was Rs 9,000 for the permanent workers, spread over three years. A settlement was arrived at late on Saturday night. The new wage agreement will be valid for three years, with retrospective effect from August 1, 2011.
Hero MotoCorp has three production facilities, at Gurgaon, Dharuhera (close to Gurgaon) and Hardwar. The Gurgaon unit rolls out 6,000-7,000 two-wheelers daily.
The Gurgaon workers were demanding Rs 15,000 in monthly increments, spread over three years. However, given the slow market conditions, they accepted the management's offer of Rs 9,000, informed the person, on condition of anonymity.
Initially, the management was offering the workers a monthly increment of Rs 7,500, only marginally higher than the Rs 6,500 rise in the wage settlement to those working in the Dharuhera unit in late 2011. The workers at Gurgaon had refused the offer, citing more expensive living conditions.
Hero MotoCorp's sales in 2012-13 had declined by 2.2 per cent, to 5.9 million units.
A spokesperson at the company confirmed the development and said, "As the industry leader, we have taken a prudent and well-deliberated decision, is in the best interest of all our workers. Most important, by amicably reaching the new wage agreement, Hero MotoCorp has taken the lead in setting a benchmark for a balanced and reasonable wage structure for industries in the region."
A senior industry executive said, "After a hike of Rs 9,000, workers at Hero MotoCorp would be getting salaries higher than those paid at Honda Motorcycle and Maruti Suzuki." The average monthly salary of a permanent worker at the Gurgaon unit is currently around Rs 32,000, going up to Rs 38,000 for more experienced employees.
Soon after lifting a lockout in August last year, Maruti Suzuki had increased wages by a record 50 per cent at Rs 14,800 a month for 3,500 workers across its Gurgaon and Manesar facilities. The wage rise at Honda Motorcycle and Scooter India (HMSI), inked in December 2012, was a little over 50 per cent, of Rs 14,770 in average monthly salary.
The workers at Hero's Gurgaon unit were agitating since December last year for higher wages. They had been wearing black armbands and had stopped taking tea and snacks offered by the company. In January this year, they'd also slowed production operations, leading to an output loss of around 1,200 scooters. Last month, five representatives of the employees' union had resorted to a hunger-strike for four days.