Temptations inc;ude wooden hangers, stationery, bathrobes, slippers, laundry bags, ashtrays and coasters.
You normally will not carry away a weighing machine in your luggage when checking out of a hotel room. When it has happened, courteous hotel managers have written to clients, telling them they may have packed the device along with their accoutrements "by mistake". Don't be fooled. It's not a mistake. According to a recent global survey among travellers from 29 countries, 38 per cent Indians admitted to stealing from hotel rooms - next only to Mexicans (40 per cent) and Colombians (57 per cent).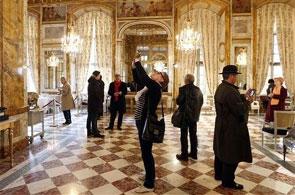 Unless you are obsessed with your weight, a weighing machine might be an oddity to pilfer from a hotel when there are so many other goodies lying around. You can be sure that most Indians will nonchalantly walk away with the toiletries. Hotels say that shower gels, razors, shower caps and hand towels are among the stuff most filched from their rooms.
Perhaps the temporary dwellers feel these are but consumables that need to be consumed - whether in the hotel itself or at their homes. Most hotels don't mind this. But there are other items that vanish from the rooms. So, in the manner of banks making provisions for bad loans, hotels factor this in their annual operating costs. Industry sources say that they keep aside an equivalent of around 2 per cent of their sales to meet the cost of such items "getting lost" or worn out. (So even a mid-level Gurgaon hotel that we talked to with sales around Rs 12 crore puts aside around Rs 24 lakh for this purpose.)
Other temptations are wooden hangers, stationery, bathrobes, slippers, laundry bags, ashtrays and coasters. Add to these durables like irons, electric kettles and coffee makers. You can imagine how mortifying the departure of guests can be for the managers. Items customised to the hotel's brand also regularly go missing. "There is also inquisitiveness among people about specially designed items in the rooms which they wouldn't easily find available elsewhere," says a general manager of a mid-market hotel in Gurgaon.
The Chinese, it emerges, are most likely to steal furnishings including lamps, clocks and artwork.
Industry officials say such instances are more common in leisure destinations than in inns designed for business travel. "A business traveller is used to staying in hotels and is not lured by objects in the room. But where families are involved, such incidents are more prevalent," says the Gurgaon hotel manager. Not that corporate clients aren't prone to mischief. Hotels have observed higher klepto tendencies during MICE (Meetings, Incentives, Conventions and Events) outings.
But it isn't called the hospitality industry for nothing. With a forgiveness that would do a pastor proud, a senior executive of a luxury hotel chain says, "If at all customers are taking things, it is actually a compliment. They are carrying our branding with them." So the next time you visit friends and find them making coffee for you in a machine stamped with a red logo resembling a cricket ball, you know they are only paying their compliments to a popular hotel chain.