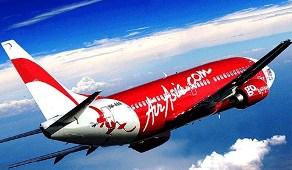 The government's decision to allow 49 per cent foreign direct investment in civil aviation seems to have rekindled interest among foreign carriers in the country's aviation sector.

A few days after the government made the crucial policy announcement, Tony Fernandes, chief executive officer of Air Asia, the largest low-cost carrier in Southeast Asia, said he would visit India this month.

"Will be in India at the end of the month and will try to meet all of the press," Fernandes said in his response to an email query.

Shortly after the Union Cabinet approved FDI in civil aviation and multi-brand retail on September 14, he had tweeted: "Fantastic news that India has opened up investment to foreign airlines.

With Malaysia opening up this is fantastic news for airlines like Air Asia.

Great that Indian government has put people first."

However, according to news agency Reuters, Fernandes, while addressing the Singapore press, said he had no immediate plans to enter the market because he thought the aviation fuel tax and airport charges were still too high.

This time, Fernandes seems to be taking cautious moves after fizzing out of all excitement shown by Air Asia when it entered the Indian market in 2010. Seldom had any airline expanded at such a speed then.

Air Asia was flying to nine destinations across the country and has over 120 flights a week (to and from) in operation.

Later, the airline withdrew flights from New Delhi and Mumbai, attributing it to high operating
costs that include high airport and fuel charges.
FDI is expected to boost investor sentiment in the long term.
According to the Centre for Asia Pacific Aviation, a Singapore-based consultancy: "The floodgates of investment are unlikely to open in the short term but from the perspective of improving sentiment and demonstrating that the government is committed to supporting the development of a viable airline industry, this is a positive milestone."
"If the Government is serious about granting new licences to well-funded, professional start-ups, we could in due course see the launch of greenfield joint ventures by carriers such as Air Asia, Jetstar and Tiger Airways," the Capa analysis said.
With Civil Aviation Minister Ajit Singh repeating his ministry is committed to address the concerns of the aviation industry, airlines are hoping to make gains in the long run.
Addressing the fifth Assocham International Conference on Indian Civil Aviation on Saturday, Singh said: "Among my top priorities will be getting aviation turbine fuel declared as 'notified product', to bring transparency in its pricing and reduction of value-added tax on ATF by the states."
Singh also said innovative solutions like development of low-cost airports would be put in place to help create affordable air connectivity in remote areas of the country.
Both these moves will be a big boost to the ailing Indian aviation sector as well as to the interest of foreign airlines, say experts.
The approximate losses of airlines in the last financial year stood at Rs. 10,000 crore (Rs 100 billion).