A day after notifying a policy measure to allow foreign airlines pick up 49 per cent stake in Indian carriers, the government today said the aviation industry was in an upbeat mood as it was expecting a positive response to the move.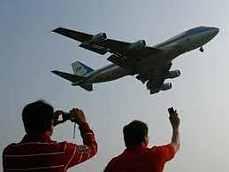 "The aviation sector is going through difficult times and facing financial stress due to the economic slowdown. But the mood is upbeat after the government has allowed 49 per cent FDI in domestic airlines," Civil Aviation Minister Ajit Singh said on the sidelines of an ASSOCHAM conference on Indian civil aviation sector in New Delhi.

"Time will tell how many foreign airlines evince interest (in acquiring stake)," he said in response to questions. A week after the Cabinet Committee on Economic Affairs took the decision, government yesterday notified it to permit foreign airlines "to invest in capital of Indian companies operating scheduled and non-scheduled air transport services up to the limit of 49
per cent of their paid up capital."
This would pave the way for much-needed equity infusion in Indian carriers which are in dire need of funds, he said, adding that banks were currently unwilling to give money to the airline industry due to the prevailing financial distress.
Terming the problems faced by the aviation sector as temporary, Singh said the sector was vital for economic growth and was bound to grow with the growth of the middle class as air travel for it was now a necessity.
The Minister said in the Winter Session of Parliament, scheduled in November, the government would bring a Bill on setting up of a Civil Aviation Authority which would revamp the aviation regulator Directorate General of Civil Aviation.