Ferrari's Fernando Alonso will aim to consolidate his Formula One championship lead around the streets of Singapore on Sunday, seeking a third win in the night race to extend his 37-point advantage in the standings.
The twice world champion has been a master of consistency this season, winning three races and claiming a top-five spot in seven others, and goes into the final seven races of the season in prime position to win his first title since 2006.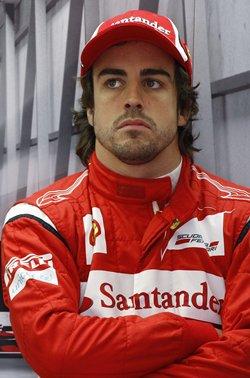 While his Ferrari has often struggled in qualifying, his race pace has been competitive and he arrives in southeast Asia buoyed up by another rousing drive at his team's home track in Monza, where he finished third after starting 10th on the grid.
"In all the simulations and all the predictions we had, it was never a podium finish, so basically it's much better than expected," the Spaniard said after the Monza race.
"The race went like a movie for us, like a dream."
More encouraging for Alonso is that the 23-turn Marina Bay Street Circuit has proved a happy hunting ground since he won the scandal-tainted inaugural race in 2008, notching up another win two years later and third and fourth places in the other races here.
Even if he fails to finish in Singapore, Alonso (179 points) will retain his title lead heading to Japan on October 7 but the Spaniard will be keen to keep a cushion between himself and the three former champions behind him in the standings.
McLaren's Lewis Hamilton (142 points) is the form driver on the grid after two wins in the last three races, the Briton one point ahead of 2007 champion Kimi Raikkonen with defending double champion Sebastian Vettel a further point back in fourth.
FOND MEMORIES
Hamilton and Red Bull's Vettel have fond memories of Singapore, having each won the race once, but Lotus's Raikkonen will be hoping for a change of fortune after failing to score a point in Singapore on his two previous visits.
"It is quite hot and humid here and of course a bit different with the evening race than normal; it is a challenging circuit but hopefully we can do well," Raikkonen told reporters on Wednesday.
"It's a street circuit so it always makes it a little bit more tricky when you try to get the best out; if you make a little mistake there is a big chance to hit the wall, in a normal circuit you have some run-off areas."
Hamilton preferred to highlight his 2009 victory rather than dwell on his last two visits to Singapore, where his race was compromised by tangles with Mark Webber in 2010 and Felipe Massa last season.
"After winning in Hungary and Monza, I head to Singapore full of positivity and optimism that we can take the title fight to Fernando," he said.
"I enjoy the Marina Bay circuit in the same way that I like racing at the Hungaroring... it's a darty track that requires you to really be on top of the car to get the best from it.
"It requires more finesse, though with most of the braking zones approached at very high speed, and the walls are never far away. Factor in the heat and humidity and it's a very challenging weekend."
After dominating the title race last season, Vettel has only one victory to his name so far in 2012 but the German is hopeful of winning for the second year in a row in Singapore.
"Singapore is one of the highlights on the calendar, because the atmosphere of a night race is amazing," he said.
"I also like it because the track is really great to race on -- which is partly to do with the fact that we race anticlockwise there."
Michael Schumacher and Nico Rosberg will also be hoping for a more competitive race after Mercedes were given the green light to introduce exhaust upgrades to their cars.