Senior IAS officer M F Farooqui is likely to be the next Telecom Secretary.
Farooqui, who is currently Secretary in the Department of Heavy Industries, is tipped to replace Rentala Chandrashekhar who superannuates at the end of this month.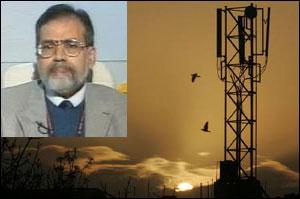 The Cabinet Committee on Appointments (ACC) is believed to have cleared Farooqui's name and an announcement is likely to be made shortly.
The Tamil Nadu cadre IAS officer of 1978 batch, Farooqui will have a 15 month tenure at the helm of the Department of Telecom before he attains superannuation age of 60 years in June 2014.
Farooqui, who is on Central deputation since December 2009, was made the Secretary in the Department of Heavy Industries in the Ministry of Heavy Industries and Public Enterprises in December.
He is joining DoT at a time when investor sentiment has been largely hit by regulatory uncertainty. This was also reflected in a massive 96 per cent decline in foreign investments to $70.46 million in April to November 2012 from $1.98 billion in the same period a year ago.
Chandrashekhar, 1975 batch IAS from Andhra Pradesh cadre, had his last working day on Thursday due to weekend holidays from Friday. He had handled the sector in turbulent times and simultaneously played an active role in putting in place the new telecom policy to set the roadmap for future investments.
During the tenure of Chandrashekhar most of the regulatory issues were dependent on courts. Following court's order, government now has definite way of allocating spectrum, a key component for telecom services, through auction.
The allocation for mobile telephony was put on hold after May 2009 which in turn impacted expansion of the sector.
Farooqui will have to deal with issues such as rising tariffs, industry's opposition to implementing free roaming services, litigations including the matter of 3G inter-circle roaming and levy of one-time spectrum fee on operators.