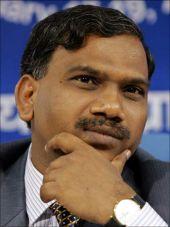 Former Union Telecom Minister A Raja has rejected Joint Parliamentary Committee chairman P C Chacko's offer giving him a chance to respond on the 2G spectrum allocation issue in written submissions, saying he wants to personally depose before the panel to tender evidence on the matter.
In a two-page letter, Raja wondered "why the JPC is reluctant to hear my deposition on the entire gamut of issues that is supposed to be looking into".
"After all, the purpose of the JPC is to arrive at the truth of the matter, and my unique position to explain the policy and rationale of the government behind the issuance of UAS (telecom) licenses and grant of spectrum, as well as the sequence of events and the role of various individuals and institutions, cannot be overstated," he said.
Chacko on March 8 wrote to Raja seeking his response to a set of four questions. Chacko's letter was in response to Raja's letter to Lok Sabha Speaker Meira Kumar on February 22, with a copy marked to the JPC chairman, seeking an opportunity to appear before the panel and explain his version.
Raja in the March 13 letter said he wanted to respond to attorney general's allegations against him that he ignored the advice of the law minister and the finance ministry in allocating spectrum.
"... if given an opportunity to appear before the JPC, I will establish that these allegations are misconceived and that all decisions were taken collectively by the Department of Telecom with express or tacit consent of other senior functionaries of the government," he wrote.
Photograph: Reuters