The Empowered Group of Ministers headed by Finance Minister P Chidambaram is scheduled to meet tomorrow to discuss the third round of spectrum auction.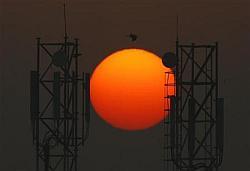 "There will be discussion over the third round of spectrum auction which Department of Telecom (DoT) has to conduct to comply with the Supreme Court order," government sources told PTI.

The EGoM would take a call on the number of telecom circles in which spectrum would be auctioned, they added.

The apex court on February 15, 2013, had directed government to put entire spectrum for auction that was freed from cancellation of 122 2G licences.

The government had put on sale 271.25 Mhz of spectrum in November 2012 even as 514.8 Mhz of spectrum was freed after the Supreme Court order in February last year cancelled 122 licences.

To comply with Supreme Court order, DoT will have to auction airwaves in at least 20 circles.

The Department will also have to take EGoM's approval to auction spectrum in Delhi and Mumbai circles which failed to attract bidders for the second time since November 2012.

The second round of spectrum auction is scheduled to start from March 11.
The government has received only one application from Sistema Shyam Teleservices for participating in spectrum auction.
Sources added that there is very bleak possibility of spectrum price getting reduced in 18 out of 22 telecom circles for which bids were received in November 2012 auction.
It was also not clear if spectrum price in remaining telecom circles - Delhi, Mumbai, Karnataka and Rajasthan - will be reduced for which there are no bidders in the upcoming auction on March 11.
Government had already reduced price of GSM spectrum in these four circles by 30 per cent after there were no bidders in November auction.