Former economic affairs secretary EAS Sarma has written to Prime Minister Manmohan Singh, asking him not to accept the Rangarajan committee's report to review the existing gas price of $4.2/million British thermal units (mBtu), as this would result in a profit of $313 million for Reliance Industries Limited (RIL), without any additional investment or effort by the company.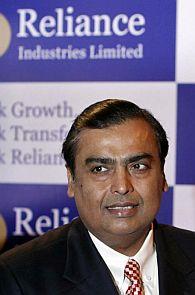 "The letter says the unit cost of gas from the KG Basin may not exceed $0.6 per mBtu.

If the existing price of $4.2/mbtu, which in itself is questionable, were to be revised to, say, $10/mbtu, around the level resulting from the Rangarajan pricing formula, it would imply an increase of $5.80," Sarma said in his letter.

"These profits would accrue without any additional investment or effort on the part of RIL. Over the lifetime of the gas field, the additional windfall profits will run into billions of dollars," Sarma told Business Standard.

An RIL spokesperson said the company wasn't aware of the letter and didn't want to comment on the matter.

Sarma's letter said natural gas markets were highly fragmented and there was no reliable price-discovery mechanism in place across the world.

Depending on supply-demand fluctuations, gas prices varied and, therefore,
any limited tender arrangement could be misleading, he said.
"RIL offered to supply gas from the KG basin to NTPC at $2.34 per mBtu, but at that time, the group of minister constituted by the government chose to close its eyes to it and ignored the advice given to it by officials," Sarma said.
In the absence of a reliable market, the only way to determine the price of gas is through an independent, rule-based regulatory authority appointed under the law.
But Sarma said the government had deliberately disempowered the petroleum regulator, only to hand over the responsibility to the group of ministers, which was only a political entity.
"RIL had originally overestimated the KG Basin gas reserves and claimed the reimbursement of a huge amount towards the investments reported to have been made. It had promised gas availability of up to 80 million cubic metres a day.
As of now, the reserves may not exceed one-fifth of the originally disclosed estimate. Gas availability has hardly exceeded 30 million cubic metres a day," Sarma said in the letter.
Assuming RIL would provide them enough gas, several developers of gas-based power plants had made large investments on their projects.
"Their plants are running at less than a third of the capacities. As a result, Andhra Pradesh has been thrown into an unprecedented power crisis," Sarma said.