The home ministry has said the Naxals are spreading to states like Karnataka, Tamil Nadu and Kerala in an attempt to set up a base in South India. Vicky Nanjappa reports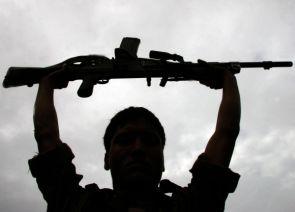 Even as the government struggles to fight the Naxal menace, the strength of the Maoists has grown considerably over the past three years. An estimate put out by security agencies says that there are about 23,000 Naxals operating in different parts of the country.
This clearly shows that the Naxals have a sizeable presence and not much has been done to curb the menace. The recruitments, according to reports, are still active and none of the proposed steps by the state and Central agencies have acted as a deterrent.
Most new recruits are around 20 years old. While some have been willingly sent by their parents, there are others who have been forced to join the Naxals. There have been instances where the Maoists have forcibly taken away children and recruited them. Their parents have not opposed it out of fear.
While the strongest base for the Naxals are Jharkhand, Chhattisgarh and West Bengal, latest intelligence reports suggest that they are setting up bases in Assam and other north eastern states as well.
Naxals setting up their base in Assam was first noticed in 2012. The arrest of Aditya Bora, an ULFA militant, revealed that he had been helping Naxals in Assam.
Today, the police feel there is a 2,000 strong Naxal cadre force in Assam and with the help of other militant groups they are gradually making inroads. The modus operandi remains the same; targeting the downtrodden in rural parts of the state and luring them into their fold.
The home ministry recently pointed out that the Naxals were spreading to other states like Karnataka, Tamil Nadu and Kerala. There was an attempt being made to link the western and eastern ghats through these states. They plan to set up a base on the Karnataka-Kerala border. They have so far not been very successful, as they have been unable to garner local support.
However, their attempts will continue to create a southern base, especially after they lost Andhra Pradesh to security agencies.