HCL Technologies' stock has been on a run since the company announced its good first quarter results. Anant Gupta, president and chief operating officer, talks to Shivani Shinde on strategy, challenges and customers. Edited excerpts: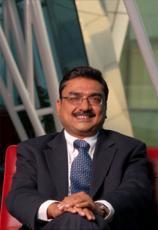 If you look at Accenture's number, outsourcing has been a big driver. When HCL talks about being able to corner a larger market share in renewal contracts that are coming up, how stiff is the competition?

In the renewal market, it is largely about global players and we do cross paths with them. In 70 per cent of the engagement, we compete with traditional outsourcers and we continue to see competition from them.
You will always have a long list of players when you go for such deals. But as Vineet (the CEO) said, even if the incumbent is able to maintain 70-80 per cent of such deals, contracts worth $8 billion will change hands in the next six months.
HCL has been focused on the renewal market for some years. What has been the learning?

There is an element of worry when a client is moving from service provider A to B. There are a few reasons for this. You are challenged by a set of service providers who are running it, you have a finite time within which the transfer has to happen, in some cases you might not have the luxury of knowledge transfer, and when the customer does decide, the other service provider would have already disengaged the people on the project.
You have to realise that these are live projects, so the room for error is negligible. The entry barriers in such deals are very high.
Vineet's comment suggested HCL is more focused on the US and Europe markets and the rest of the world seem to be low priority.

The rest of the world continues to be a priority. But with so much renewal happening in the US and Europe markets, we would like to maximise our ROIs (returns on investment) by focusing there.
Also, these deals have a very finite period and spread over a few quarters. Hence, we want to maximise returns.
This does not mean other geographies are not our focus.
Telecom and the enterprise application segment was very soft this quarter. Will this continue?

The macro environment continues to be challenging and discretionary spend is still under pressure and subdued. Enterprise application services largely deal with discretionary spends. Despite that, we have seen growth on a year-on-year basis.
The telecom industry has its own challenges. Clients are still holding on to budgets. We will continue to see telecom under pressure for some more time.