If one look at the growth of sectors individually, industries such as metals, mining, machinery, and transportation have seen a decline. They show close contemporaneous correlations with the business cycle.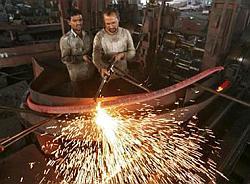 Ordinarily, a growth rate of 2.4 per cent in industrial production shouldn't be cause for relief, let alone celebration.

It speaks volumes for the state of the economy when such a low number is greeted with some cheer, having exceeded many analysts' expectations.

And the January 2013 year-on-year number is somewhat better than the abysmal 1 er cent growth registered during the April-January period, compared to an already sluggish 3.4 per cent during the corresponding period of the previous year.

The reversal in direction, however slight, does support the assertion by the finance ministry and other government spokespersons that the economy has bottomed out, the worst is behind us, and we can look forward to somewhat faster growth in the coming year.

However, this confidence appears misplaced once the disaggregated numbers are scrutinised. Mining showed a decline of 2.9 per cent in January, reinforcing its negative trend over the past year.

The bans on mining activity in some parts of the country are presumably contributing to this and there is no reversal in sight.

While the manufacturing sector, which accounts for almost 80 per cent of the index, grew by 2.7 per cent, the performance of individual segments within it varied widely.

Tobacco products and garments grew by almost 20 per cent each, while miscellaneous electrical machinery grew by a striking 47 per cent.

However, even this was not enough to boost the capital goods sector into positive growth; it declined by 1.8 per cent in January, and by close to 10 per cent during the April-January
period.
In contrast, important industrial segments showed significant declines. Miscellaneous machinery, office and computing equipment and motor vehicles all declined by close to 12 per cent each in January, consistent with their patterns for the April-January period.
Metal products declined by about 8 per cent, while the big losers were medical equipment and printing and publishing, both of which declined by over 20 per cent.
Metals, machinery and transportation equipment are relatively large sectors and also show close contemporaneous correlations with the business cycle.
Their performance certainly does not provide any indication that the trough has been reached and the only way to go is up.
To make matters worse, hopes that the Reserve Bank of India (RBI) would help things along by continuing with its policy rate cuts will recede as the consumer inflation numbers, which were also released on Tuesday, sink in.
While the RBI cited slowing growth and moderating core inflation as its rationale for cutting rates in January, the consumer price index (CPI) suggests that inflation is stubbornly holding above the two-digit mark, driven significantly by food prices, which increased by almost 14 per cent year-on-year in January.
With no visible policy initiatives in place to address this source of inflationary pressure, there is a strong likelihood that food prices will continue to keep the headline inflation rate high, thereby reducing the room that the RBI has for persisting with its sequence of rate cuts.
While policy makers are presumably fully aware of these grim realities, their public pronouncements suggest their unwillingness to face them.
Statements to the effect that the economy will return to an 8 per cent growth rate in a year or two border on fantasy and serve no purpose. Hard decisions and firm action are the only options left.