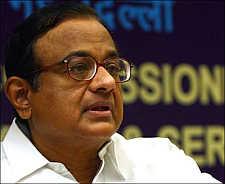 In 2013-2014, Finance Minister P Chidambaram said growth would be between 6.1% and 6.7%.
In 2014-2015, India, he said, wants growth to be above 7%.
Suman Guha Mozumder reports from New York.
Finance Minister P Chidambaram believes India's current account deficit situation will be much better in the January-March quarter this year than it was in the last quarter.
Speaking to the media in New York on Wednesday, Chidambaram said India's current account deficit in 2013 would will be around 5% or a shade below that.

"This means we have some distance to go before we are able to bring it down to 2.5% or so," the finance minister, who is on a road show to attract investment to India, said.
"That can happen in one year or two years depending on our exports. If exports rise sharply, if oil bills soften more quickly, the current account deficit could come down to 2.5% by next year. That is a function of exports and cost of exports," Chidambaram added.

In the October-December quarter India's current account deficit was at an all time high of 6.7% of GDP.

Chidambaram admitted there are concerns among foreign investors about the current account deficit as it worries the Government of India.

"But the satisfactory part is that in April 2012-March 2013, we have financed the current account deficit fully through foreign inflows. We have not drawn down on our reserves even by one dollar. So flow is quite copious and the idea is to ensure that flow continues to be copious," Chidambaram told this correspondent.

"I have made the target for the fiscal deficit and that is to be achieved by 2016-2017. As far as current account deficit is concerned, there is no fixed number, but prudence tells us that it would be 2.5% or so. But there is no target date."
"Prudence dictates that the current account deficit of any country should be roughly two-and-a-half percent or so, although it is not an agreed number," the minister said.

Chidambaram, who visited Ottawa, Toronto, Boston, New York and Washington, DC to pitch for foreign investment, said India has a huge capacity for absorption of investment.

Between 2012 and 2017 the minister said India will need $1 trillion investments in infrastructure.

"We expect 47% of this to come from the private sector and the remaining from the government and public sector," he said, adding that despite talk about corruption in India few foreign investors and industry leaders had raised the issue with him, an indication that prospective investors are less worried about the phenomenon than is popularly believed.

Asked if there is any discussion within the Indian government about raising the cap on foreign investments, Chidambaram said there are many caps, not just one that have been imposed at many different points of time.

"We have a committee now to look at each cap and now the question is: Has the cap served the purpose? Does it continue to serve the purpose? If it does, let the caps continue, but if it does not, the caps should either be removed or relaxed. The committee will give its recommendations after three meetings, of which they have held one. Let the report come. I think many caps deserve to be relaxed or removed."

The minister said the insurance bill is already in Parliament and added that he is in touch with the Leaders of the Opposition in both Houses, Sushma Swaraj and Arun Jaitley respectively.

"They have promised to come back after holding internal consultations within their party. I think there is a strong support for raising the cap from 26% to 49%," he said.

Chidambaram admitted there is contrary opinion on this in India, but felt, "it has to be done some day."
"Whichever government is in office will be persuaded to raise the cap from 26% to 49%," he said. "It has to be done dome some day, so why not do it now rather than defer it?"

During his road show Chidambaram was accompanied by Arvind Mayaram, Secretary, Department of Economic Affairs; Dr Raghuram G Rajan, Chief Economic Adviser, Ministry of Finance; Shamila Chavaly, Joint Secretary (Infrastructure), Department of Economic Affairs; N Aggarwal, Director (Capital Markets), Department of Economic Affairs; Dr Urjit Patel, Deputy Governor, Reserve Bank of India; S Raman, member, Securities and Exchange Board of India.

Asked to comment on concerns among some economists that over-dependence on foreign inflows may be risky for India, the minister felt the fear is irrational.

"It is an irrational fear. In a globalised world with trade and investments driving economic growth, every country is dependent on every other country. We are more globalised than most people are prepared to acknowledge. Like every country India will engage with the rest of the world," Chidambaram said.

Asked if he is happy with India's current inflation figures, the minister said, "Do not count the chickens before they are hatched because inflation depends on many factor including international prices. While it is trending downwards, let us be careful and watch."

When asked about the International Monetary Fund growth projections for India, he said his economic advisors gave him the figure of 6.1% to 6.7% whereas the IMF has placed it at 6.2% which falls within India's expectation.

In fiscal 2013-2014, Chidambaram said growth would be between 6.1% and 6.7%. In fiscal 2014-2015, India, he said, wants growth to be above 7%.

"In the next fiscal year we want to go back to the potential growth rate which is above 8%. One rate at a time, one percent at a time," he said, adding that the main reason for that growth will not be foreign investment but come from domestic investment which is very high.
"We should get a growth rate of 7% and at best 8%. Our potential growth rate is 8% and that is why I say we should be able to climb back to that potential growth rate."