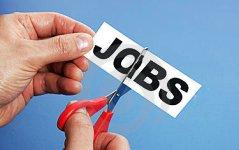 A day after about 1,200 media persons from Saradha Group media entities lost their jobs in West Bengal, the state government extended a helping hand. On Wednesday, government officials are set to meet these employees to try and find a resolution to the issue.

"A meeting with the editorial members who are now jobless has been fixed with the industry minister, Partha Chatterjee, on Wednesday afternoon," said a Bengal Post insider. Bengal Post is a Saradha Group publication.

"We are trying to see how things can be improved," Chatterjee said today.

Yesterday, scenes on the set of Bengali channel Tara Muzik resembled a primetime soap opera, except that these weren't scripted. About 850 employees of the channel had just learnt they had lost their jobs. The owner of the channel, Saradha Group, shut all its media outfits — Bengal Post, Sakalbela, Azad Hind, Tara News, Tara Muzic and Tara Bangla. In the past month, about 1,300 media persons have lost jobs in different Saradha media outfits.

"One has to see from where these media outfits get the financing. In this case, it is the chit fund business of the group; the chit fund model is always very unstable. It is unfortunate that so many journalist friends are jobless now," said Sougata Roy, Trinamool Congress Member of Parliament. "What has happened is indeed very sad, but we must not let it happen again. The central government, RBI (Reserve Bank of India) and Sebi (Securities and Exchange Board of India) should jointly address this issue," he added.

Sudipta Sen, chairman and managing director, Saradha Group of companies, couldn't be contacted for comment.

Sebi has begun a clampdown on collective investment schemes. In May 2012, it had issued an order against a Kolkata-based company, directing it not to raise money from the public. In December 2012, it issued another
order against the company, stating its intention to prosecute the firm for continuing to raise deposits. On April 10, Sebi issued another order, cautioning investors against another instrument, potato bonds, floated by a West Bengal-based company.
In 2010, when the national media environment was still reeling under recessionary tendencies, the West Bengal media landscape saw a sudden boom. A hitherto unknown name in media circles, Saradha Group, stepped into the fray.
The company invigorated the sleepy media market in West Bengal by launching new media entities—Channel 10 (now Rice group), Bengal Post, Sakalbela, Azad Hind, Prabhat Varta, Parama and the Seven Sisters Post.
A large number of Bengali channels in the state have their roots in chit funds. The regulatory clampdown on these funds has taken a toll on these media operations.
A look at Saradha Group's operations shows it has at least eleven verticals---retail, realty, construction, exports, cement, hospitality, agro, publication, financial management, travel and education.
However, Saradha's most conspicuous businesses is the schemes through which it raises public deposits---fixed deposits, monthly income schemes and recurring deposit schemes. For instance, the company offers to nearly double funds over five years and give about 50 per cent higher returns in three years.
Companies such as the Saradha Group have been raising money from the public as advances. According to Companies (Acceptance of Deposits) Rules, 1975, though companies can raise deposits as advances, the repayment period has to be six-36 months.
According to an RBI official, most multi-level marketing companies have been resorting to this clause to raise funds from the public. Not many, however, stick to the repayment timeline clause, he adds. "Also, such companies prefer to drag the matter to court so that they can continue raising funds until a judgment is arrived at," the official said.