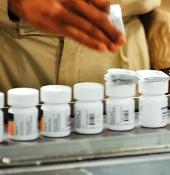 Sun Pharma, the largest Indian pharma company by value, is set to strengthen its presence in the US skincare market.

Last week, Sun's Israeli subsidiary, Taro Pharma, received the US Food and Drug Administration's approval for its New Drug Application to launch Topicort Topical Spray for the treatment of psoriasis.

Topicort (desoximetasone) is a corticosteroid indicated for the treatment of plaque psoriasis in patients of over 18 years of age.

The corticosteroid spray market is placed at $100 million per annum in the US.

Sun Pharma had acquired US-based DUSA Pharmaceuticals in January, as part of establishing its presence in the US dermatology market, in an all-cash transaction of about $230 million.

DUSA's leading drug Levulan is approved by FDA for treatment of non-hyperkeratotic actinic keratoses of the face or scalp.

Actinic keratosis is a serious skin condition caused by excessive sun exposure, which often progresses to skin cancer.

"We expect Taro to generate revenues of $15 million (Rs 81 crore) per annum from this product," said Ranjit Kapadia of Centrum Broking. Refusing to disclose details, a Sun Pharma spokesperson said, "Since
this is a Taro Pharma filing, we would not be able to comment beyond what they have shared."
On Tuesday, shares of Sun Pharma went up by 2.23 per cent to close at Rs 889.7 on the BSE.
The global drug market for psoriasis is about $8 billion, where the US holds a major pie.
According to US-based National Psoriasis Foundation report, psoriasis is the most prevalent autoimmune disease (an illness that occurs when the body tissues are attacked by its own immune system) in the US, which affects as many as 7.5 million people, or 2.2 per cent of the US population.
Sujay Shetty, leader (pharma life sciences), PwC India, said, "As dermatology is a niche segment, which requires a lot of technical abilities, the competition seems to be lesser
. "The skin care market is growing very fast in the US and other global markets."
Apart from Sun Pharma, home-grown major Biocon also eyes a chunk of global psoriasis drug market.
In January, the Bangalore-based firm received the Drug Controller General of India's approval for the sale of its drug Itolizumab, used for the treatment of chronic plaque psoriasis.
After launching the drug in India this year, Biocon will soon take the novel biologic drug to other global markets.