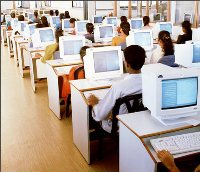 The much anticipated Budget announcements are over. The entire Opposition walked out from the Lok Sabha in protest terming the Budget as 'inflationary'.
The FM changed the slabs cutting the rate to 10 per cent for income up to Rs 500,000. The tax concession the FM said will give more money in the hands of the people.
But raising the duties on petro products will automatically hike the cost of petrol and diesel, which will not only hurt vehicle owners, but prices all around will also rise.
What effect will the Budget have on the IT sector? Will the IT and BPO sector benefit from this year's Budget?
In an hour-long chat on rediff.com on Tuesday, Ganesh Natarajan, former chairman of National Association of Software and Service Companies, replied to many such queries. Here is the transcript:
gram asked, mr ganesh natarajan, do you see IT budgets increasing this year from your clients?
Ganesh Natarajan answers,  at 2010-03-02 13:51:58Yes,we certainly see more spending and more budgets from all our global clients and i am sure the industry will register double digit growth in the next financial year.
---
PRAKASH asked, sir,what will be the impact of stpi not extended for it sector and are there any chances that govt may extend stpi later.
Ganesh Natarajan answers, I believe that the government will do something for SME's and second tier cities and NASSCOM is making all efforts to ensure this happens.
---
taxPayer asked, Ganesh Sir. Will my take home income increase because of new tax slabs ? is my curr take home is 10K.what is new take home ? thank you sir.
Ganesh Natarajan answers, Yes the take home will increase. Unless you are as rich as Mukesh Ambani in which case it doesnt matter
---
pc asked, how well are Indian IT companies equipped to handle M&A oppy coming esp in IT integration in coming times..?? Are midcap companies luking at that space for oppy?
Ganesh Natarajan answers, yes definitely, all companies are preparing for a new season of acqusitions. Zensar itself is in the market for a 80-100 mn dollar acquisition.
---
Rohit asked, Hi Ganesh.. What do you think about the 'overhyped' anticipated growth rate of over 9pc in next year, though we have seen 6pc latest growth rate with agri performing worst ever
Ganesh Natarajan answers, I agree with the FM that the indian economy has the potential to grow at 9% next year ofcourse we need to see investments in infrastructure at a rapid pace.
---
Adithya asked, Mr.Niranjan, Hi, Markets are seeing positive response after the budget call, is it right time to invest for short term?
Ganesh Natarajan answers, It is very difficult to predict the movements of the stock market so take good advice before investing in any particular company
---
needideas asked, give tips...i run a mom n pop web dev firm and looking for ideas and resources of all kinds to grow...
Ganesh Natarajan answers, Find a few medium sized clients and try and extend more services to them to help them in their business.
---
PRAKASH asked, sir,how are companies like niittech,subex,sasken,
3iinfo.is
it worth to buy these cos at current prices
Ganesh Natarajan answers, All these are smaller companies you should research their websites and see whether their clients and offerings are good and then decide on investments.
---
deepak asked, Sir, What is impact of Budget, specially MAT on IT sector?
Ganesh Natarajan answers, MAT will certainly have an impact particularly on smaller companies however we expect that the government will come up with initiatives during the year that will be pro small firms.
---
jigar asked, We are software development firm having multiple locations across Mumbai and Gujarat. So for we are paying service tax on our all local software development. I heard software exports is now also liable for Service Tax. Is that so ?
Ganesh Natarajan answers, Software exports gets tax benefits if the operations are from registered SEZ and STPI units and hence most companies pay lower tax.
---
prakstar asked, Sir will SEZ's see better absorption after this budget announcement?
Ganesh Natarajan answers, Yes certainly because all the anomilies in the tax benefits for SEZs have been resolved and this will make the SEZ an attractive option for software and BPO companies
---
sreedhar asked, Hi Ganesh, can you exlain us exactly how this year budget will help IT companies and people working in IT organizations?
Ganesh Natarajan answers, The Union Budget 2010-11 is a well balanced one with a number of measures focusing on agriculture, social sector, infrastructure and growth. The Government has shown prudence by provisioning for an Apex body for the banking and financial sector and by providing additional licenses for and funds for the sector. For the IT sector – this is a welcome budget, where the Government has taken decisive supporting policies like SEZ. Reduction in corporate surcharge from 10% to 7.5% will bring some respite to the industry however an increase in Minimum Alternative Tax (MAT) from 15% to 18% will impact the sector to some extent. The Thirteenth Finance Commission has also made a number of significant recommendations relating to Goods and Services Tax (GST) and will look at introducing the same by 2011; this will surely impact the industry however the extent of its impact will have to been seen in the next fiscal. The proposal to create a Technology Advisory Group under Nandan Nilekani for visioning and implementing all IT related projects in the future reflect a new thinking at a policy level and this renewed approach will help in the creation of greater transparency and accountability in the public decision-making processes and will help build cutting- edge IT infrastructure for all our government projects. The budget has been exceptionally favorable towards individual tax payers as the Finance Minister changed the income tax slabs making it broader and simpler to ascertain savings. The pruning of tax slabs on income up of 10 per cent, 20 per cent and 30 per cent respectively will now ensure savings of upto fifty thousand rupees on salaries of upto eight lakhs and thereby ensure that more money comes in from individuals as well in the economy. Many new initiatives have been introduced for sustained and inclusive growth such Mahila Kisan Sashaktikaran Pariyojana, Financial Stability and Development Council, Technical Advisory Group for Unique Projects, National Mission for Delivery of Justice and Legal Reforms, Independent Evaluation Office and National Clean Energy Fund. The focus on renewable and clean energy cess is noteworthy. The allotment of over 46% of the total planned amount on infrastructure was much needed. The emphasis on the social sector development is in line with the government's mantra of 'inclusive growth'; however emphasis on higher education would have been a welcome step though this had been a key element of the budget presented last year. The IT and Business Services industry in India is looking to the future with a renewed confidence. With global economies recovering from the recession and Indian GDP set to return to the near double digit growth levels in FY11, there is a quiet confidence that double digit growth numbers will be back this year. So while the industry was expecting to see more action on corporate tax, customs and excise duty structures. The focus on 'inclusive' growth are all steps in the right direction and in the medium term will spur consumption and investment all over the country.
---
vats asked, Mr Natarajan, with influences like the strengthening Indian Rupee,inflationary trends, an aggressive US government, continuing softness of the US economy, do you believe that the IT sector will continue to perform as well as it has done in the past.
Ganesh Natarajan answers, This will be a tough time for the IT sector because the recession is not yet over in Europe and growth in the US is also slow however companies have begun to spend on IT and BPO and you can expect to see double digit growth this year
---
needideas asked, how can i hire best programmers ...bigger firms offer more in all regards...suggest hiring n retention strategies ...
Ganesh Natarajan answers, If you are a smaller company you can hire and retain good people by offering a better enviornment and more excititng projects. there are many people who prefer to swim in a smaller pond because it gets them recognition
---
needideas asked, suggest me books, organisations etc ...obviously i am going to check yours ...also is nasscom membership worthy for a small firm...
Ganesh Natarajan answers, Yes NASSCOM membership is certainly worthwhile because the EMERGE forum helps small companies to get many of their concerns resolved
---
GaneshRaja asked, Hi Ganesh, Dont you think increasingly in the last few years especially after the global financial crisis many western countries are against outsourcing services to east. (Proctecting their local jobs and skills). Dont you think this is going to affect india in a big a way in the coming years. ?? And we should be investing more of your resources into research and development to counter this phenomena ?
Ganesh Natarajan answers, It is a global economy and work will always be done where it makes most economic sense,hence i believe the globalisation of jobs will be on going process. However you are right in saying that more R&D and focus on IP and products will be good.
---
prakstar asked, More Sops are being offered to exports, but the export market is still down due to US & Europe slowdown? How long will these markets take to revive?
Ganesh Natarajan answers, The western markets will be slow in recovery which is why it will be sinsible for all companies to diversify and explore new markets like Africa, Asia.
---
Ravi asked, Hello, India is no more the numero uno destination for IT outsourcing with many European countries and the US opting to develop their IT portfolios locally. India's position is further undermined by lack of 'product development/innovation' , countries like Philippines, China and even Eastern European countries eating into teh IT pie. In these circustances, how long do you think will IT last as sunshine industry in India?
Ganesh Natarajan answers, India will maintain its lead for along time because the only country that has our scale is China which is still a long way behind in managing big projects. the Phillipines has so far been focusing on voice call centers and there are really no other big players
---
sachinn asked, is it an IT related chat or an advisory chat why is ganesh ignoring genuine IT related question
Ganesh Natarajan answers, My definition of IT is Information Technology - if yours is Income Tax then i am really not the expert.
---
podaNataraja asked, Indian IT company way of keeping staff happy - team lunch, visit to resort for a day (playing musical chairs, antakshiri and other silly games), celebrate b'days (bring ur own sweets) - wat the hell ?
Ganesh Natarajan answers, there is nothing wrong in keeping people happy and motivated and different companies have different ways of doing it.
---
ganesan73 asked, sir, can u explain export unit exmption
Ganesh Natarajan answers, For genuine exporters tax rebate is available under section 80AA in SEZs and 10A and 10B in STPIs
---
Muthu asked, Mr.Ganesh Natarajan,Why (i.e.Zensar)don't you open Software ODC at Chennai.Do u have any proposal for that in near future?
Ganesh Natarajan answers, No our next destination is Bhubaneshwar.
---
prakstar asked, STPI scheme allows company to have both domestic & export business, whereas in SEZ's it is only Exports and also it is not permitted to move existing business in STPI into SEZ's.Now with the STPI scheme's sunset what is the incentive for companies involved in domestic business? Will there be change in SEZ rules to permit domestic business?
Ganesh Natarajan answers, Even within STPI tax benefit is available only for exports business.
---
moinkhan asked, what will be the impact on real estate ?
Ganesh Natarajan answers, No direct impact however you can expect builder interest in SEZs to be revived.
---
needideas asked,  piracy issues...smaller companies cant buy all the softwares...any data on piracy raids in india and fines imposed....are businessman jailed for not affording all neccessary licenses
Ganesh Natarajan answers, yes, software piracy is another form of theft and the same penalties will apply.
---
JAISUKH asked, what do u think of mobile payment systems what timeframe do u think is required for them to be sucesful???
Ganesh Natarajan answers, I think that better proliferation of bandwidth in the country will ensure that their is more focus on both online and mobile payments.
---
shindev asked, Is this budget good for local Indian Computer Hardware manufacturers- Good or Bad?
Ganesh Natarajan answers, No real difference because of this budget.
---
grg asked, Any guidance on opportunity areas in IT for an enterpreneur?
Ganesh Natarajan answers, You should chose new areas like cloud computing, SAAS, engineering services and media which will give more opportunites for smaller companies.
---
rpn asked, Hi Ganesh, Is there any difference on tax liability for ESOP & other perquisits in new budget ?
Ganesh Natarajan answers, No change in the current budget.
---
kalpesh asked, any effect on job market
Ganesh Natarajan answers, Not because of the budget but the over all improvement in IT spending is expected to create over 1 lakh new jobs in the year 2010.
---
Vikas asked, The pricing (and margins) of IT services have come down due to the slowdown, this has forced IT companies to cut costs including payroll. When do you foresee a reversal of the same and an increase in employee rewards?
Ganesh Natarajan answers, The focus on cost reduction will continue however good Companies will resume hiring and increaments in 2010.
---
SRG asked, Hi Ganesh, What is your prediction for IT enabled services like Geographical Information System in India?
Ganesh Natarajan answers, GIS and engineering services will both be high growth segments in 2010.
---
abcd asked, Mr Ganesh?How is your CRM practice doing?I heard you folks just do staff aug projects and no turnkey projects
Ganesh Natarajan answers, We do both- fixed price and time and materials projects in all ERP areas incuding SCM and CRM.
---
manishreddy asked, Sir, I am placed in erstwhile satyam in 2007 in campus recruitment drive. Recently mahindra satyam has conducted a re-assessment test to on board selected candidates. They said they will select only 10% of 8000+ candidates waiting to join in mahindra satyam.But they are recruiting latest
B.Sc
candidates and ignoring us. Because of satyam we have lost our valuable 2 years. They are playing hide and seek game with us. As u have associated with NASSCOM, can we take up this issue so as to get justice done for us. Please tell me how to solve our problem?
Ganesh Natarajan answers, I will certainly inform suitable people about your concerns.
---
kalpesh asked, which field is safe for job
Ganesh Natarajan answers, For motivated and hard working people all fields are safe.
---
GODWIN asked, Sir, What do you generally feel about the bud jet 2010 and is it fully growth oriented and what about the burdens the people have to face when the budget is implemented for the people
Ganesh Natarajan answers, the budget is what the country requires- a strong focus on growth and an inclusive India.
---
curio asked, Hello sir...Is this a good time to launch a new company in the IT services space?
Ganesh Natarajan answers, It is if you chose the right area like cloud computing, SAA, skills development etc
---
shiva asked, which dgre is better btech or mca for this industries
Ganesh Natarajan answers, Both are good entry level qualifications, however success in your career will depend on what you have learnt and how you perform on the job.
---
Ojasatiitb asked, Increasingly, companies are trying to moderate their IT capabilities. So, they are rejecting features , ulities that do not dramatically improve the functioning of theit businesses. That is to say, developing/enhancing a software tool 'just for the sake' of it is not seen as value addition unlike some 5 years ago where an IT analyst could sell an enhancement idea to an existing software or develop a new tool easily. How do you think will this impact out IT industry. Thanks.
Ganesh Natarajan answers, On the contrary there are good companies offering niche tools which continue to do well- example Beyond Core. these companies are able to explain their value add to large customers
---
needideasss asked, explain cloud computing in ur words...and what biz opportunities are available for entreprenuers
Ganesh Natarajan answers, Cloud Computing enables organisations to use third party hosting services and enables applications of SAAS etc . In other words it shifts the emphasis from capital expenditure to pay per use
---
chandr asked, I am in final year engg in EXTC branch. What about the prospects of my making a career in IT
Ganesh Natarajan answers, It remains one of the most exciting and financially rewarding careers for a young person and I would encourage you to continue.
---
Arijit asked, Sir do you think that there must IT labour union unlike it is there in other industry segments?
Ganesh Natarajan answers, So long as people are happy and employers take good care , there is no need for collective bargaining in any industry
---
madhu22 asked, What is the challenge a Pre Sales guy faces ?
Ganesh Natarajan answers, You need to understand the expectations of both customers and your field sales team to ensure that you are successful.
---
Ganesh Natarajan says, 
Thank you all for being on this chat and wish you all the best with your careers in the exciting IT industry.