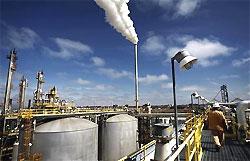 Nearly a year after arbitrators were appointed to decide whether Reliance Industries can be penalised for producing less than target, the arbitration has not yet commenced, the Petroleum Ministry has said.

The government had in May last year disallowed $1.005 billion expense of RIL on the flagging KG-D6 gas fields for not implementing the approved field development plan.

RIL had contested the move saying the Production Sharing Contract does not provide for such a penalty in case of shortfall in production, and slapped an arbitration notice.

The then Oil Minister S Jaipal Reddy had in June 2012 decided to join the arbitration proceedings and appointed former Chief Justice of India Justice V N Khare as the government's arbitrator.

RIL had appointed former Chief Justice of India S P Bharucha but a third neutral referee has not yet been appointed and arbitration yet to commence, the Oil Ministry said in a Chronological Sequence it released yesterday evening to rebut CPI leader Gurudas Dasgupta's allegation of Oil Minister M Veerappa Moily trying to sabotage the arbitration to help RIL.

"Both the arbitrators have not yet selected the Presiding Arbitrator. The Arbitration Proceedings are yet to commence," it said.

The Oil Ministry under Reddy had on May 2, 2012 disallowed $1.005 billion out of the $5.756 billion investment RIL had made on developing Dhirubhai-1 and 3 (D1&D3) gas fields in block KG-DWN-98/3 (KG-D6) as output of 27.52 million standard cubic meters per day was way short of the target of 80
mmscmd for that time of the year.
The fall in output, which the ministry blamed on RIL for not drilling its committed quota of wells, had led to a large chunk of production facilities lying unused or under-utilised. And disallowed cost recovery in proportion to that.
D1&D3 output has further fallen to 10.95 mmscmd this month but the ministry, now headed by Moily, has not decided to disallow any further cost.
Dasgupta had on June 18 alleged that Moily was trying to favour RIL by sabotaging the arbitration as well as deciding not to levy any further penalty despite the drastic fall in production leading a larger under-utilisation of facilities.
Stating that the allegation had no 'factual basis' to Dasgupta's allegation, the ministry statement said, "No decision regarding this pending arbitration proceeding was ever sought" from Moily since his taking over in November last year.
"A perusal of the relevant file reveals that the file has not been dealt with by anyone in this Ministry after December 17, 2012," the statement said.
RIL blames drop in reservoir pressure coupled with increased water and sand ingress for the drop in output.