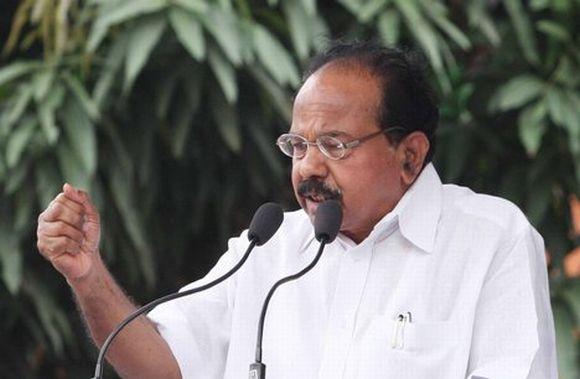 Launching a fresh broadside at Oil Minister M Veerappa Moily, CPI leader and MP Gurudas Dasgupta on Tuesday said no action has been taken against Reliance Industries for deliberately keeping natural gas output low and is instead being rewarded by a steep hike in prices.
Dasgupta, who had previously alleged that Moily was favouring RIL by proposing a steep increase in gas prices, said the company is producing under 15 million standard cubic metres per day of gas against its own stated target of 80.
Lower production, which was because RIL refused to drill wells it had committed when it got KG-D6 gas field capex hiked to $8.8 billion from $2.4 billion, had led to loss of 13,600 MW of electricity generation and 325 lakh tonnes of urea production, he told a press conference.
While his predecessor S Jaipal Reddy had fined RIL over $1 billion for missing 2011-12 output target by 60 per cent, Moily has not initiated any such action for larger variation in subsequent 2012-13 and current fiscal, he said.
"The same principle needs to be scrupulously applied for both 2012-13 and the current year as well," he said reading out a letter he today wrote to Prime Minister Manmohan Singh on the subject.
The government, he said, needs to disallow $1.7 billion of RIL's investment for production failing to meet target in 2012-13 and $3 billion for current year. "The Petroleum Minister (Moily) talks about giving incentives for (raising) production. What about disincentives for shortfall in production," he said.
In the letter to Prime Minister, the Left leader said the UPA government believed only in giving "carrots to the corporates (but) there are no sticks to set them right when they indulge in wilful wrong doing."
Dasgupta said output lagging targets meant Rs 110,000 crore (Rs 1.1 trillion) loss due to shortfall in power generation and urea production. RIL had disputed the penalty imposed by Reddy and an arbitration initiated but since Moily took over the arbitration has been stalled, he alleged.
"Can a Petroleum Minister decide unilaterally to thwart the arbitration proceedings to absolve a single corporate of its multi-billion contractual obligations," he said. He alleged that output was kept deliberately low in the run-up to price revision due in April 2014.
Moily has proposed raising gas prices in the immediate to $6.7 per million British thermal unit from $4.2 and to $8-10 next year.
"The arm-twisting policy of RIL is revealed, the fall in production (from KG basin) is synonymous with high demand," he said adding that RIL has defrauded the country and it is still being pampered by the government.