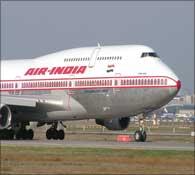 Three days after the private airlines decided to withdraw their strike planned for August 18, some leading Air India unions have planned a series of actions which includes a relay hunger strike, zero overtime, forming a human chain with their families and culminating in a walkout on August 31 across the country.
The unions say they have been forced to do this because the loss-making state-owned airline's management has not taken the unions in confidence before presenting its revival plan to the government.
The elaborate agitation plan has been prepared yesterday by some of Air India's dozen-odd unions which include Air Corporation Employees Union, Aviation Industry Employees Guild and might be joined by the Indian Aircraft Technicians Association, which claim to represent over 80 per cent of Air India's employees. A convention of the unions titled "Save Air India" was held yesterday in Delhi.
"We have prepared our plan of action and depending on the response that we get from the management we will decide whether it will be a whole day demonstration or for some stipulated time," said ACEU president Dinakar Shetty.
He added that the unions are also planning to educate passengers by publishing bulletins so that they are aware of the crisis in Air India, which has made losses of Rs 5,000 crore (Rs 50 billion).
Sources involved with the revival package, however, said other unions attended a meeting of the turnaround committee at which details of the revival plan for the company were discussed.
The protesting unions said they have still not received notice of termination from the management for reviewing wage agreements. The government has given Air India permission to renegotiate wage agreements to bring it expensive productivity-linked incentive scheme in line with Department of Public Enterprises guidelines.
"We have already written to the labour ministry saying the management cannot talk about a revision of the wage agreement without giving us notice. Also they are not implementing many of the aspects of the agreement," Shetty said.