Do you think you are too old to get a new job? Despair not!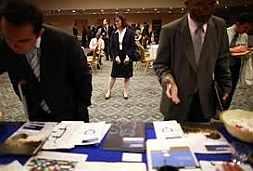 According to a new US study, hiring managers are three times as likely to hire mature workers, ages 50 and above, as they are to hire Generation Y, those born between 1981 and 2000.

A survey of more than 500 hiring managers in the US conducted by Adecco, a staffing and recruiting agency found that female hiring managers, are more likely (66 per cent) than their male counterparts (52 per cent) to hire a mature worker, the BusinessNewsDaily reported.

Mature workers are valued in particular for their reliability (91 per cent), professionalism (88 per cent) and positive work-ethic (75 per cent),
the survey found.
Some managers said that the greatest challenge in hiring mature workers is the relative difficulty older employees have in learning and adapting to new technologies (39 per cent), but an equal number of hiring managers said they don't find any challenges when hiring older employees.
Mature workers also need to work on their self-promotion skills, the survey found.
One of the biggest mistakes that mature workers make during the interview process is failing to seal the deal by selling themselves, it found.