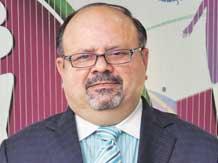 The Cabinet has cleared the proposal of phase-III auction of 839 FM radio frequencies in 294 cities.

Harrish M Bhatia, chief executive of 94.3 MY FM, the station under the Dainik Bhaskar group, tells Gaurav Laghate regional markets hold great potential.

Edited excerpts:

With the Cabinet approving the phase-III auctions, are the concerns of FM players addressed?

The government should not treat radio spectrum as telecom spectrum, and the process and prices should be decided keeping in mind the fact that radio is a free-to-air medium, unlike telecom.

The current spectrum fees proposed and planned by the government wouldn't make it viable for investment, especially in C and D category towns.

The government should ensure the radio industry becomes investor friendly.

What are the challenges for phase-III?

The music royalty issue, which has been lingering for some time, definitely needs a little more attention; the copyright board has to be functional immediately and the statutory licensing should become operational.

This is, and will remain the biggest obstacle for the radio industry.

Till completely resolved, it will hamper growth.

We are definitely not happy with the Cabinet's decision on private FM networks airing news bulletins from All India Radio.

We are all large and responsible media houses. It is somewhat ironical that we have to take news from AIR.

We expect the Cabinet to approve the rationalisation of Prasar Bharati rentals and the permission to air independent news.

What would the impact on the industry be?

Any comment on what would be the final impact of phase-III can only be given after the execution of the auction process decided by the government; it shouldn't burden the industry with a high licence fee.

What do you think of FM broadcasting in India?

India's private FM radio segment accounts for four per cent of the country's total ad industry, with 245 private FM stations operating across 86 cities.

It has been growing at a compounded annual rate of 14 per cent.

For phase-III, the government should formulate policies that are beneficial for investors. After phase-III, radio would become a national media and attract advertisers.

The auction would be a 'game changer' for India's radio industry.

Phase-III would be very exciting for the radio industry and I am very sure once it becomes fully operational, it would be on a fast-track mode in India.

The future of radio is very promising; we expect radio to account for eight to 10 per cent of the advertising pie.

What kind of growth do you envisage in regional markets?

We don't term them regional markets. For us, these are 'growing markets' and we have always been present here, thanks to our parent company, Dainik Bhaskar.

Not only do we have deep understanding of these markets; we are also able to connect with listeners.

Starting an FM channel in these growing regions has become the prime objective of FM radio players across the country.

In these markets, radio has the power to reach out to the masses in a cost-effective way.

These channels project local issues, music promotions and many chat shows in colloquial dialect, attracting almost the entire population of a state.

As a medium, radio is more accessible in tier-II and tier-III markets.

In some cases, it may be the only medium of communication here.

Moreover, while the global slowdown may have affected the revenues of players in the metros, retail advertising has been unaffected, since consumers in these cities are not exposed to daily stock market fluctuations.

We expect the retail market to grow 20-25 per cent yearly.

Recently, you struck an ad sales deal with Fever FM. How would this work?

It is too early to comment on how it would pan out.

It is aimed at leveraging each other's strengths and market leadership.

The alliance would offer advertisers the best of both metro and non-metro markets, while allowing radio brands to sell at stations where they are absent.

The alliance is for sales, integrated solutions and activations.

You have also announced a 20 per cent rise in advertising rates. What are your other plans? We wish to record decent growth this year; the plans are quite robust.

Radio offers opportunities to create unique 'radio properties' and build 'sonic triggers' that are hard to be replicated on other media.

94.3 MY FM has been at the forefront in introducing innovative music and non-music content, giving radio a new perspective. It gives value to listeners, as well as advertisers.

It is well known that radio has the ability to spawn and augment the reach of any campaign.

Our in-depth understanding of the market allows us to offer innovative marketing solutions to advertisers delivering returns on investment.

Therefore, MY FM is able to offer a 360-degree media solution to its clients with radio, online and on-ground activations, making it an indispensable medium.
Image: Harrish M Bhatia | Photograph, courtesy: Business Standard