The Indian Olympic Association (IOA) finalised a four-member delegation, which will accompany Sports Ministry officials, for a meeting with the International Olympic Committee in Lausanne on May 15 to find a way for India's return to the Olympic movement.
The list includes the names of Vijay Kumar Malhotra (Acting President of IOA), N Ramachandran (Patron, Squash Rackets Federation of India), Tarlochan Singh (vice-president, Archery Association of India) and S Raghunathan (president, Indian Kayaking Canoeing Association).
The four-member list was released after IOC's letter dated May 2 asked the IOA to confirm the names of its delegates, who would be visiting Lausanne for a joint meeting with the IOC.
"I will lead a three-member delegation for the meeting and the flight schedule will be sent to you in couple of days," Malhotra wrote in the letter sent to IOC President, Jacques Rogge.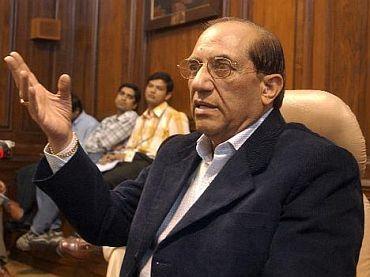 The letter further said that the four-member list should be considered official.
"This should be treated as the only official/authorised communication of the IOA regarding the composition of the delegation for the meeting," the letter added.
Interestingly, the names of Hockey India secretary general Narinder Batra and Jharkhand Olympic Association President R K Anand, did not figure in the delegation though some media reports had listed them.
It is learnt that the suspended IOA, headed by Abhay Singh Chautala, has also submitted a list to IOC in which the names of Batra, Anand and AFI President Adille Sumariwalla figure.
The IOC's letter had clearly stated that the IOA must submit the names of not more than three representatives of National Sports Federations (in order to keep a reasonable size for this meeting).
The current president of the suspended IOA, Abhay Singh Chautala and secretary-general Lalit Bhanot who were elected unopposed on December 5 last year, have been not been included in the list.
The IOA will have wait for the IOC to clear the names sent to them, in order to visit Lausanne.
Meanwhile, other members who are expected to take part in the meeting are IOC member in India Randhir Singh, Sports Minister Jitendra Singh, Sports secretary P K Deb, officer on special duty Anil Kumar Singh and Beijing Olympic gold medallist shooter Abhinav Bindra.
Last month, the joint meeting that was earlier scheduled to be held in Lausanne on April 15 and 16, was postponed for the second time in two months due to the stand-off between the IOA and the government.
The IOC had once again extended an invitation to the representatives of the IOA and Sports Ministry for a meeting in yet another attempt to resolve the suspension issue.
The IOC had also urged the IOA and the Sports Ministry to sort out their differences so that they could be on the same page as far as the Sports Code is concerned before they meet the international body.