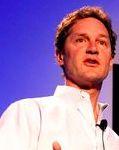 Chuck Brymer
, president and chief executive officer of DDB Worldwide, was in India for the DDB Asia-Pacific Summit in Mumbai between March 26 and 28.
A packed schedule notwithstanding, he held his first town-hall-style meeting, also taking out time out to sightsee. He takes home the belief that India can add to the momentum in operations in Asia-Pacific. Excerpts from an interview with
Viveat Susan Pinto
:
How does it feel to be in India since the stake hike? (His network upped its stake from 10 per cent to 51 per cent in long-time-partner, Mudra, last year)

We are proud of putting our businesses together here. Both DDB and Mudra have an amazing creative reputation. We have been working together for many years now. The transition therefore from minority to majority shareholder feels natural.

This is also an important step for us since India is a key priority market for us. For the last five to six years, DDB has been investing significant resources into the Asia-Pacific region. We have opened offices in Guangzhou and Beijing in China.

We have acquired new talent, won new business. We recently established a creative centre in Shanghai. The addition of India will simply add to this momentum. Our ability to grow APAC will be that much more better.
Will India emerge as a hub for your operations - something that you have done with China in recent months?

We will utilise India as a creative resource for all our offices around the world. We are already moving in that direction with DDB Mudra's chief creative officer Sonal Dabral on our Global Creative Council. The council has creative chiefs from 10 to 12 markets.

The acquisition of majority stake is not just about DDB buying another company. It is about what we can learn from Mudra. We have two to three different pieces of work at the moment for which we have asked India's support in our endeavour to develop global campaigns. Volkswagen, for instance, is serviced by us in 31 different markets besides India.

We will use Indian ideas to support Volkswagen across the globe. Some of the best ideas are coming from India, Brazil, China and Australia.
What about increasing your stake in DDB Mudra? Are you looking to do that soon given that global networks prefer to have full control of their local operations? 

We are looking at that, but have not set a timeline for that at the moment. We are happy with the stake we currently have and will evaluate further investment in the future.
You opted to retain the Mudra name post the acquisition. What was the reason for that?

Mudra has a great name in the marketplace. It is well-established and has a wonderful reputation for creativity. To diminish that by changing its name to DDB is not our style. Our style is collaboration. DDB Mudra is a powerful combination.
Recently, your parent Omnicom stepped into a first-of-its-kind joint venture with rival IPG to manage General Motors' Chevy brand. The JV was between Omnicom's Goodby Silverstein & Partners and IPG's McCann-Erickson. Now that the precedent has been set, are you open to the prospect of DDB working in similar alliances?

While a joint venture is a first, it is not uncommon for rival agencies to be working together. On McDonald's, for instance, DDB  works with Leo Burnett and TBWA. But to answer your question on whether we are open to joint ventures such as the one between Goodby and McCann, we'd do what is in the best interest of our clients.