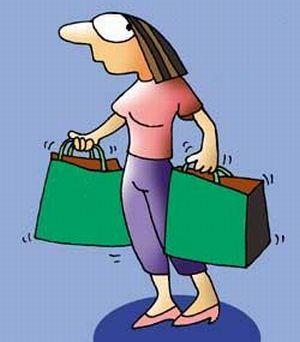 Shopping is supposed to be fun, but for these folks it turned out to be anything but! Illustration: Uttam Ghosh

Yesterday, we carried the tale of a reader's unpleasant shopping experience and invited you to write in with yours. Here is the first set of responses we've received!

First up is Bangalore-based Amit Mittal's story:

Mr Kishore Biyani, MD of Pantaloon Retail India Ltd is considered the retail king of India and kudos to the skill with which the company spots opportunities at the right time. But there are a number of low points in their business as well.

My ordeal started when I was my home in Bangalore was under construction and I decided to buy an EWC (European water closet) from their megastore Home Town, in Marathalli. My decision was based on the fact that they were selling it for approximately Rs 500 less than the lowest competitive quote I got.

The said EWC was from a well-known sanitary company called Cera and cost upward of Rs 5,000. I paid the full amount in advance, on the assurance that I would receive my consignment the next day. Despite two reminders, it was only after two days that I actually received it.

Upon its arrival, an inspection revealed the EWC to be of second quality (it had an inherent defect, as the pedestal was not round but tapered in the front). I protested and raised the issue, but they argued tooth and nail before finally agreeing to replace the same with another piece, for which I had to wait another two days.

When the new one arrived, I found that it was even worse than the first one they sent. I asked them for a refund and they offered me a credit note to be utilised within a month's time. Stuck?

Anyway, I then raised the issue separately with Cera, which advised me to accept the delivery and promised to replace the same, subject to inspection. Putting faith in their word, I accepted the delivery and got the same inspected by a Cera official, who confirmed that the piece was indeed defective and promptly replaced it.

All's well that ends well.

Lesson learnt: Never, ever pay in advance for any service or product unless you are sure about the quality.


---
Next we have
L B Prakash
's experience:
I purchased an HP laptop from Mumbai and it turned out to be a substandard product. Added to that, I received extremely poor service -- and although I stay in Mumbai, it has become only more of a problem.
I was advised to buy a two-year customer care package at the time of purchase, which I did, and even then I was turned away, being told that my laptop was not under warranty. I had to just forget about it and buy a new one.
I have extensive correspondence and service centre reports to prove the deficiency in HP's service and my repeated requests to them for a replacement of product have not been accepted.
I am thinking of going to consumer court and also thinking of creating a Facebook Page -- 'I hate HP' -- where I can state the case in detail.
---
And here is
Vijay Padiyar
's tale of woe:
Late last year, during the festive season, we visited the Big Bazaar store in Koramangala, Bangalore to make some purchases. Our bill came to about Rs 2,450.
After the billing process was completed and the payment was made, we were informed that there was an offer underway, which entitled us to a six-piece drinking glass on a purchase of Rs 2,500. Why couldn't they have told us that before the billing, so that we could have purchased some small item for Rs 50 or so and availed of the offer?
The scheme worked so that on every purchase of Rs 500, a customer was awarded a gold sticker. Five stickers (shopping worth Rs 2,500) would get us the glass set. So for want of Rs 50, we ended up with only four stickers.
Anyway, we came back to Big Bazaar the next week (while the offer was still on) and made some more purchases, which came to over Rs 500 and thus received another gold sticker.
So we went to the gift redemption counter and asked for our gift. To our surprise and dismay, we were informed that since this was the last one or two days of the offer period, their stock of gifts had been exhausted!
I got really angry and asked the salesperson at the counter why they were continuing to advertise the offer when the stock had been exhausted? He did not have any answer to that.
He then said that they were expecting some stock from another Big Bazaar outlet, which would come by the next week, so we could collect our gift then. He gave us the Big Bazaar outlet number and told us to call back the next week.
We called twice in two weeks after that, only to be told that no new stock had been received and all the old gifts were exhausted.
So much for Big Bazaar's scheme and brilliant staff!
Have you ever been misled by any store? Or, had a bad customer service experience? Write in to us about your worst shopping experiences at getahead@rediff.co.in (subject line: 'My shopping nightmare') and we'll publish your entries right here.