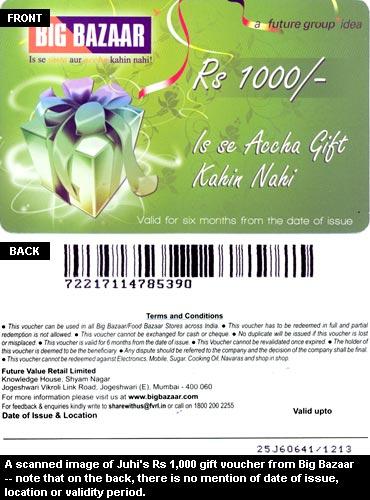 Who can resist big discounts and freebies? We all love a great bargain, but reader Harsh Dadlani* endured more trouble than he bargained for when a friend of his tried to cash in a gift voucher from home department store Big Bazaar.

On a cool Saturday evening recently, my wife Asmita got a call from a close friend Juhi to go out shopping. There had been a big ad in the paper that day from Big Bazaar where they claimed to offer 40-60 percent discounts on purchases -- whoa! A great buy!

So the three of us and Juhi's little daughter Iha went to the branch at Milan Mall, Santa Cruz (W) in Mumbai. Juhi was on cloud nine. We also like shopping, but she was so excited we had to ask -- what was the secret behind it? She showed us gift coupons collectively worth Rs 2,700 from Big Bazaar, which proudly declared, 'Big Bazaar: Is se Achcha Gift Kahin Nahi.' Wah! Juhi was lucky. She was entering a store which was running a huge discount to buy things against a gift voucher.

The next 90 minutes was a crazy experience -- I was shopping with two ladies. For a moment I thought they would empty the store! A phone call from home came to my rescue, however and I started sounding the timeout bell. Finally, with great difficulty, the four of us reached the checkout counter.

I finished my shopping and paid by credit card. Juhi was next. After hearing a series of beeps from the barcode scanners (how much women buy, indeed!), I heard the salesman at the counter say, "That's Rs 2,739."

Juhi was even happier. She promptly took out gift coupons worth Rs 2,700 and a Rs 50 note. I was thoroughly enjoying the elation of a woman who had just shopped for a whole bagfull and was going to pay only Rs 39.

The series of beeps started again, this time to scan the coupons. The balance payment was reduced to Rs 1,039 by an assortment of Juhi's coupons in different denominations. Finally, the salesman came to the last coupon worth Rs 1,000.

Suddenly I heard him say, "It's not activated, madam, so it cannot be used."

There was an awkward silence for a minute. None of us knew how to react. Iha, sitting near the counter started staring at us. The little girl knew something was wrong. Kids are smart!

"What do you mean, 'not activated'? This is a gift I received on Diwali, from a friend," Juhi responded.

"But madam, you have to get it activated at the store when it is purchased. Rs 1,000 coupons carry a special check -- they need to be activated."

We took back the coupon to examine it. There was no mention of any date or place of issue.

"What is the meaning of this? Do you expect me to ask the friend who gifted me this coupon where he bought it from and go there to activate it?" Juhi was losing her temper now. Iha had also started getting cranky.

"I understand madam. But you also must understand. We cannot accept this as it's not activated."

I thought it was high time I stepped in. I asked, "What is the meaning of a gift coupon? What if this is used in a different city? Do you expect a person to go back to the city where it is purchased and activate it?"

The argument was turning into a heated one. The people behind us were asked to go to other counters. Suddenly, a man in a green shirt popped up from nowhere.

"What is this? You cannot use it. The coupon is not valid." He seemed to be in quite a hurry.

"Sir, do you understand the meaning of a gift voucher? If not, please step aside. I don't think we should interact with you." I was also getting irritated now. "Are you going to pay us Rs 1,000 in cash if we get this activated? Can you give that to us in writing?"

"I'm staying right here. And I cannot give it to you in writing," the man replied.

Iha was at her cranky best by now. She had started pulling out more toys to buy.

At this time, Big Bazaar Customer Support (so-called), which had been contacted, got back to us with a vital piece of information -- the coupon was from the Malad store.

"So now you can call them and ask them to activate it." Juhi saw a ray of hope.

However, we were faced with a grim fact. "Sorry, the desk is not active at this time. You can call them and go there tomorrow."

Finally after spending almost 20 minutes at the counter, we paid the remaining Rs 1,039 in cash. The shopping mood, which is the finest that a woman enjoys, was deflated.

When walking back to the carpark, I said to Juhi, "This is not done! We should not keep quiet about it. How can they issue a card without activating it? How come there is no date and place mentioned on the card? How come the activation desk is closed during the store's working hours? Why is this special 'activation' only for Rs 1,000 coupons and not applicable for ones of Rs 500 and lower?"

And that's why I'm writing about it -- someone should bring this to people's notice. So, dear readers, check the points below to avoid a bad experience when shopping with gift vouchers or coupons:

1. Make sure all gift coupons you purchase or are gifted have the date and place of issue mentioned.

2. Make sure they are activated.

3. Before you make purchases, visit the sales counter and ask them if the coupons are valid and activated.

And I must say, after with this experience -- Big Bazaar: Is se boora gift kahin nahi!

Happy shopping!

Have you ever been misled by any store? Or, had a bad customer service experience? Write in to us about your worst shopping experiences at getahead@rediff.co.in (subject line: 'My shopping nightmare') and we'll publish your entries right here.

*Name changed to protect privacy.