July 23, 2007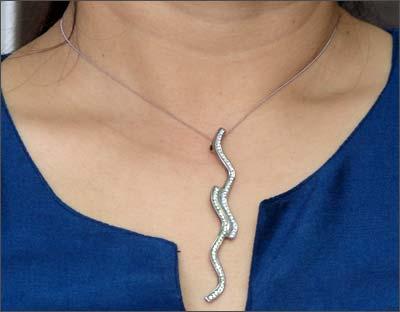 Bling is in!
Anyone trying to make a style statement today knows that if you want to get noticed, bling is the way to go. But while rockstars and starlets can get away with sporting chunky silver pendants and thick gold chains, it might not work for a regular day at the office.
Let's face it, a seven-inch dollar sign dangling around your neck will not only make it difficult to type out that office memo, but your boss might not think it very professional either.
That's where this pendant does the trick. A subtle design, delicately embedded with tiny Swarovski crystals, it's just the right size -- not too big as to be a distraction and not to little to go unnoticed.
Wearing it on an outfit in deep or solid colours will increase the contrast making it more eye-catching as will wearing it on a polo-neck top or deep/ wide necked kurta.
Available at around Rs 1,500 to Rs 2,000, this pendant is as pretty as the real thing but only costs a fraction of what one in real diamonds would. And if white's too plain for you, pick up one in a vibrant pink, blue or purple -- any colour that matches your outfit and catches your eye.
Do you want to see your fashion fundas on rediff.com? If so, mail a pic of your favourite fashion accessory, along with a brief description of where you got it and how much you paid for it, to getahead@rediff.co.in. Make sure to include your name, age, occupation, and contact details, and we'll feature the best entries!
DON'T MISS!