July 19, 2007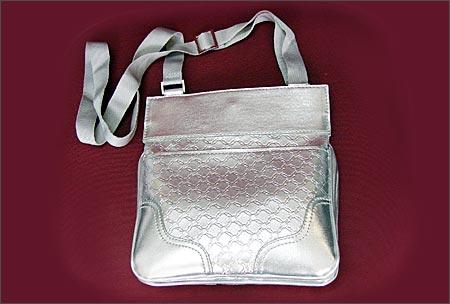 Metallic textures are very hot this season and you can't go wrong with shoes or bags in gold, silver, bronze or rust.
If you're unsure of what outfit to pair a bag like this with, don't lose sleep over it. These are meant to wear the casual look and go well on everything -- tees, jeans, kurtas and skirts.
~ Send us your fashion tips, with photos
If your headed for a night on the town, team the bag with deep, dark shades to really stand apart.
The shiny metallic finish might not be for everyone, so if you'd rather a more subtle look, opt for the more demure matte finishes.
Depending on the size, a bag like this starts at around Rs 300 for an unbranded version, while the branded variety could go for Rs 1,000 or more.
Do you want to see your fashion fundas on rediff.com? If so, mail a pic of your favourite fashion accessory, along with a brief description of where you got it and how much you paid for it, to getahead@rediff.co.in. Make sure to include your name, age, occupation, and contact details, and we'll feature the best entries!
DON'T MISS!