July 13, 2007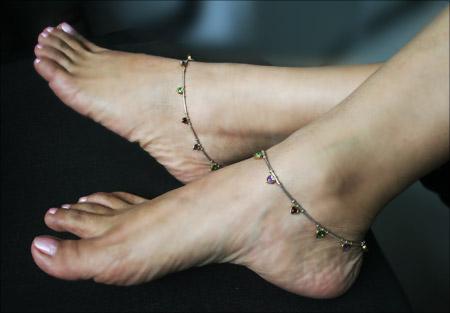 Want to draw attention to those freshly manicured feet? Try these delicate silver anklets. They're fun, sporty and funky -- the perfect accessories!
The heart-charms are irresistible, but decidedly casual. The subdued colours will compliment your everyday wear!
 ~ Send us your fashion tips, with photos
Wear them with capris or a skirt and a pair of chappals. They also look good peeking out from under jeans.
You needn't wear them on both ankles. Just go with what makes you comfortable.
Remember, if the event calls for a salwar-kameez or sari, go with the more formal  anklets.
A pair like this can be found in any metro at a store that sells silver jewellery; it could cost you around Rs 1,000. If you are looking at a non-silver version, you could pick up a pair at a costume jewellery store or off-the-road for Rs 100-200. Remember to bargain!
Photo: Dominic Xavier
Do you want to see your fashion fundas on rediff.com? If so, mail a pic of your favourite fashion accessory, along with a brief description of where you got it and how much you paid for it, to getahead@rediff.co.in. Make sure to include your name, age, occupation, and contact details, and we'll feature the best entries!
DON'T MISS!