July 17, 2007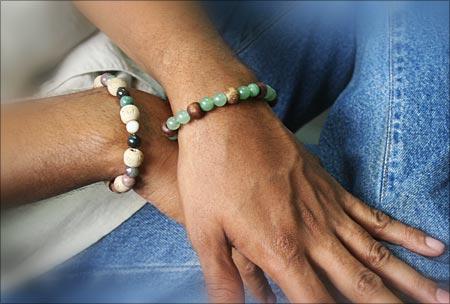 It is the age of the metrosexual and there's no reason why guys should shy away from accessorising!
Bracelets are always a fun accessory and can work as easily on a man's wrist as a woman's.
~ Send us your fashion tips, with photos
So, guys get yourself a colourful beaded bracelet to add a splash of colour to casual jeans and t-shirt.
Muted tones of green, blue and red are safe choices and black is never out-of-style, but if you're the more adventurous sort, try a bright yellow or pink. Wooden beads are just as fashionable and textured beads lend a more funky look.
Easily available at any costume jewellery shop or stall, you can pick up a bunch of these for about Rs 150 a piece.
Photo: Dominic Xavier
Do you want to see your fashion fundas on rediff.com? If so, mail a pic of your favourite fashion accessory, along with a brief description of where you got it and how much you paid for it, to getahead@rediff.co.in. Make sure to include your name, age, occupation, and contact details, and we'll feature the best entries!
DON'T MISS!