July 11, 2007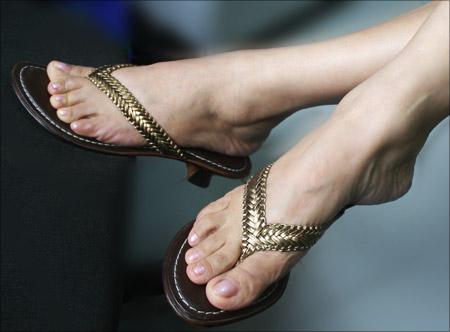 Practically all women have a shoe fettish -- they just can't get enough of them!
Here we have a dainty pair of slip-ons with a slight heel, ideal to wear on a casual date and eye-catchingly pretty. The braided gold straps set them off perfectly, and the slight heel puts them a cut above that typical chappal appearance.
So where can you find hot slip-ons like these? This particular pair is from the shoe store Catwalk in Mumbai, with branches at Kemps Corner and Atria Mall, Worli. Of course, since they are from a high-end store, expect to be set back by Rs 800 to 1000 for a similar pair.
If you're looking to economise, try the little shoe stalls at Hill Road and Linking Road in Bandra -- you'll find ones as attractive, and at a fraction of the price (for around Rs 250).
And oh, yes, silver is as 'in' as gold right now, so if these are too flashy for you, opt for a silver pair!
Photo: Dominic Xavier
DON'T MISS!
~ Accessorise: Beaded bracelets
~ Accessorise: Trendy unisex satchels
Do you want to see your fashion fundas on rediff.com? If so, mail a pic of your favourite fashion accessory, along with a brief description of where you got it and how much you paid for it, to getahead@rediff.co.in. Make sure to include your name, age, occupation, and contact details, and we'll feature the best entries!