July 18, 2007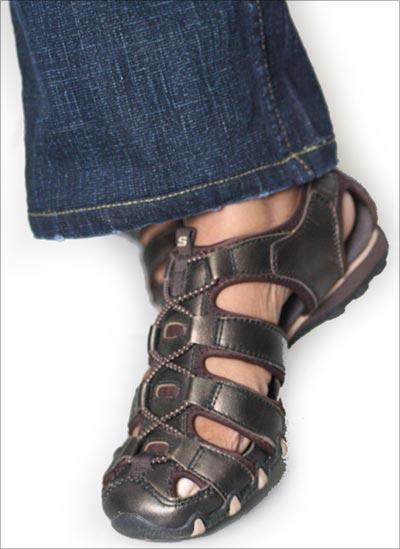 When it comes to shoes, the comfort factor is as important as style. And that's where this pair scores big, without compromising on looks.
In a design that works for both guys and girls, this pair goes well on jeans or trousers, which makes them just right for college and work.
~ Send us your fashion tips, with photos
While their closed tip protects your toes from dirt and grime, the straps let your feet breathe. The slightly elevated heel gives you a slight bounce and is great if you tend to spend long hours on your feet.
Coming to the price, an unbranded pair like this can cost about Rs 600 to Rs 1,000, while a branded pair from Sketchers could cost you over Rs 1500. The best part is that they're available in leather and all-weather materials, so you can sport them all year round.
Photo: Rajesh Karkera
Do you want to see your fashion fundas on rediff.com? If so, mail a pic of your favourite fashion accessory, along with a brief description of where you got it and how much you paid for it, to getahead@rediff.co.in. Make sure to include your name, age, occupation, and contact details, and we'll feature the best entries!
DON'T MISS!