Thirty-four-year debutant Zulfiqar Babar took three key wickets then struck a six off the final ball of the match to give Pakistan a two wicket victory over West Indies in the first Twenty20 international on Saturday.
Babar dismissed Marlon Samuels (25), Lendl Simmons (6) and Dwayne Bravo (25) to finish with three for 23 from his four overs in West Indies' 152 for seven at Arnos Vale Ground in St Vincent.
The visitors lost wickets at regular intervals in their run chase but were always up with the required rate and, with the scores tied and one ball to go, Babar launched Samuels over the mid-off boundary to seal the win.
Kieron Pollard (49 not out) showed a welcome return to form as he anchored the West Indies innings after they had won the toss and elected to bat.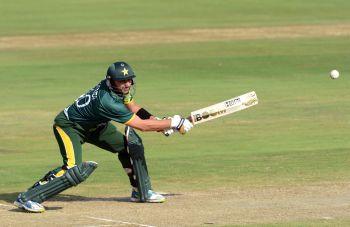 Pakistan lost early wickets in their reply, but Umar Amin, also playing his first T20 international, smashed 47 in 34 balls before he was stumped off the bowling of Samuels.
Shahid Afridi took Pakistan close, scoring 46 from just 27 deliveries, including launching his 400th six in all international cricket.
With Pakistan needing six off the last over, Samuels took his team to the brink of a super over, before bowling a full toss that Babar smashed for six from the final delivery.
"It was a great effort from the players, I was really happy to see the desire to win and really happy with the contributions of the debutants and Shahid Afridi. It was a tough chase, we had to be positive," Pakistan captain Mohammad Hafeez told a television interviewer.
The second and final match of the series will be played at the same venue on Sunday.
Scorecard:
West Indies
J. Charles b Mohammad Hafeez 1
C. Gayle lbw b Mohammad Hafeez 5
M. Samuels c and b Zulfiqar Babar 25
L. Simmons b Zulfiqar Babar 6
D. J. Bravo c Saeed Ajmal b Zulfiqar Babar 25
K. Pollard not out 49
D. Sammy c Hammad Azam b Mohammad Irfan 30
S. Narine run out 0
Extras (2b, 3lb, 6w) 11
Total (7 wickets, 20 overs) 152
Fall of wickets: 1-2, 2-13, 3-33, 4-42, 5-98, 6-151, 7-152
Bowling: Mohammad Hafeez 2-0-4-2, Mohammad Irfan 3-0-39-1, Zulfiqar Babar 4-0-23-3, Saeed Ajmal 4-0-23-0, Shahid Afridi 4-0-24-0, Junaid Khan 3-0-34-0.
Pakistan
Nasir Jamshed c Simmons b Gabriel 6
Ahmed Shehzad c Pollard b Badree 3
Mohammad Hafeez c Gabriel b Narine 13
Umar Amin stpd Charles b Samuels 47
Umar Akmal run out 9
Hammad Azam c Pollard b Gabriel 10
Shahid Afridi c D.J. Bravo b Gabriel 46
Zulfiqar Babar not out 13
Saeed Ajmal run out 0
Junaid Khan not out 0
Extras (2lb, 9w) 11
Total (8 wickets, 20 overs) 158
Fall of wickets: 1-7, 2-10, 3-45 , 4-77, 5-86, 6-116, 7-145, 8-152.
Bowling: Gabriel 4-0-44-3, Badree 3-0-27-1, Narine 4-0-24-1, Best 4-0-24-0, Samuels 4-0-33-1, Sammy 1-0-4-0.
Photograph: Duif du Toit/Gallo Images/Getty Images