West Indies number 11 Jason Holder smashed 14 runs off the final over to earn his side a dramatic tie with Pakistan in the third one-day international at Beausejour Stadium in St Lucia on Friday.
Bungling Pakistan wicketkeeper Umar Akmal had the opportunity to run out the player off the final ball but missed a simple throw from the boundary to allow the stranded Holder to make his ground and level the scores.
Pakistan looked to be heading for victory having posted a modest 229 for six wickets in their 50 overs, but the final West Indian pair of Holder and Kemar Roach struck 24 off 13 balls to leave the five-match series tied at 1-1.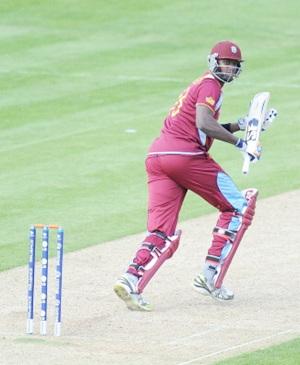 Pakistan captain Misbah-ul-Haq opted to give seamer Wahab Riaz (1-63) the final over of the innings despite a poor showing in the match up to that point as he missed his lengths all too often.
Holder bludgeoned a six and a four to give his side hope. Needing three to win off the final ball, he flashed a thick edge to third man where Junaid Khan collected.
Khan's throw over the stumps looked certain to run out Holder and hand the victory to Pakistan but Akmal somehow failed to collect and the tailender was able to scramble home having scored an invaluable 19 off nine deliveries.
Lendl Simmonds had earlier struck a fluent 75 from 86 balls and put on 91 for the fourth wicket with Marlon Samuels (46) to put West Indies into a position to win the game.
However, excellent bowling from seamer Junaid (3-54) and off-spinner Saeed Ajmal (3-36) appeared to have taken the game away from them before Holder's heroics.
"I'm disappointed, this was a game we were supposed to win," West Indies captain Dwayne Bravo said in a television interview.
"It should never have reached that situation, leaving it to the lower order, given the number of batsmen we have. At this level, the number of dot balls in our innings was unacceptable. We need to come up with a plan to cut down on that, back to the drawing board."
Pakistan's innings was propped up by a fighting 75 from Misbah, with Akmal (40 not out) providing the only other score of real significance.
"The way Holder played he took the game away," Misbah said. "In the last over we bowled too many full deliveries. I thought 229 was a fighting total but in the end we missed a couple of tricks."
The fourth one-day international will be played at the same venue on Sunday.
Scorecard
Pakistan:
Ahmed Shehzad c Roach b Holder 17
Nasir Jamshed c Roach b Sammy 20
Mohammad Hafeez c Sammy b DJ Bravo 14
Misbah-ul-Haq b DJ Bravo 75
Haris Sohail c Pollard b Roach 26
Umar Akmal not out 40
Shahid Afridi c Narine b Holder 1
Wahab Riaz not out 19
Extras: (lb-6, w-11) 17
Total: (for six wickets, 50 overs) 229

Did not bat: Junaid Khan, Saeed Ajmal, Mohammad Irfan
Fall of wickets: 1-39, 2-39, 3-92, 4-152, 5-174, 6-177
Bowling: Roach 10-1-35-1, Holder 10-0-40-2 (w3), Sammy 10-0-30-1, Narine 9-0-55-0 (w2), DJ Bravo 7-0-50-2 (w1), Samuels
3-1-4-0, Pollard 1-0-9-0 (w1)
West Indies:
Chris Gayle b Junaid Khan 8
Johnson Charles c Umar Akmal b Mohammad Irfan 6
Darren Bravo c Mohammad Hafeez b Wahab Riaz 17
Marlon Samuels c Umar Akmal b Mohammad Irfan 46
Lendl Simmonds c Ahmed Shehzad b Saeed Ajmal 75
Dwayne Bravo b Saeed Ajmal 13
Kieron Pollard b Junaid Khan 0
Darren Sammy c Mohammad Hafeez b Junaid Khan 10
Kemar Roach not out 6
Sunil Narine b Saeed Ajmal 14
Jason Holder not out 19
Extras: (b-1, lb-2, w-12) 15
Total: (for nine wickets, 50 overs) 229

Fall of wickets: 1-13, 2-16, 3-50, 4-141, 5-178, 6-179, 7-184, 8-191, 9-205

Bowling: Mohammad Irfan 10-0-34-2 (w2), Junaid Khan 10-1-54-3 (w5), Wahab Riaz 10-1-63-1 (w2), Mohammad Hafeez
6-0-16-0 (w1), Shahid Afridi 4-0-23-0 (w1), Saeed Ajma 10-1-36-3 (w1).
Result: Match tied.
The five-match series is level at 1-1.
Image: Jason Holder
Photograph: Matthew Horwood