Pakistan all-rounder Shahid Afridi produced a brilliant performance with both bat and ball to lead his team to a thumping 126-run victory over West Indies in their first One-day International on Sunday.
Afridi blasted 76 off 55 balls to help the visitors recover from a disastrous start to reach 224 for nine from their 50 overs.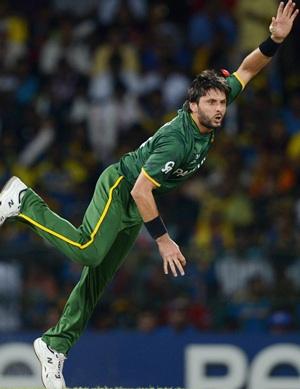 Then he took seven wickets for just 12 runs -- the second-best figures ever recorded by any player in a ODI -- as Pakistan skittled the home team for 98 at Providence Stadium in Guyana.
"Wow, wow, wow, wow, what a pitch it was for me to bowl," Afridi said at the post-match presentation. "I just kept it simple, and it worked."
Afridi's incredible all-round display enabled Pakistan to cruise to an easy win after an awful start on a difficult pitch.
The visitors crumbled to 47-5 as Jason Holder (4-13) ripped through the top-order with four wickets in a devastating opening spell.
With Misbah-ul-Haq content to knuckle down and play the anchorman role, Afridi unleashed on the West Indian bowlers, smashing six fours and five sixes to reach his 35th One-day half-century from 35 deliveries before holing out to midwicket.
"It was not easy to survive so I tried to stay positive," Afridi said.
"Whenever I got the ball in my zone I went for it. I knew Misbah was at the other end. I knew he would stay till the end, it gave me the confidence to go after it."
The West Indian reply was doomed almost as soon as it began when the home team crumbled to seven for three within the first five overs, losing explosive opener Chris Gayle to a run out.
Afridi was only introduced to the attack as Pakistan's sixth bowler but proceeded to mop up the last seven wickets with his leg spinners in an inspired performance.
The only player to get a better return in a One dayer was Sri Lanka's Chaminda Vaas, who took 8-19 against Zimbabwe in 2001.
"Credit to Shahid Afridi. I thought 225 was gettable, but once again the batting crumbled under pressure," West Indies captain Dwayne Bravo said.
"It is the lack of confidence. We have not been scoring runs. That plays its part. We really have to rally around each other and back ourselves and back our ability."
The second match in the five-game series will be played on Tuesday, also in Guyana.
Scorecard
Pakistan:
Nasir Jamshed lbw b Holder 6
Ahmed Shehzad b Holder 5
Mohammad Hafeez b Holder 1
Misbah-ul-Haq c Charles b Dwayne Bravo 52
Asad Shafiq c Charles b Holder 0
Umar Akmal c Dwayne Bravo b Roach 19
Shahid Afridi c Sammy b Pollard 76
Wahab Riaz c Holder b Roach 7
Saeed Ajmal n.o. 15
Asad Ali b Dwayne Bravo 11
Mohammad Irfan not out 4
Extras: 28
Total:(for nine wickets; 50 overs) 224
Fall of wickets: 1-15, 2-18, 3-21, 4-23, 5-47, 6-167, 7-183, 8-200,
9-220.
Bowling: Roach 10-0-38-2, Holder 10-4-13-4 (1w), Sammy
8-2-35-0, Dwayne Bravo 10-3-52-2, Narine 3-0-32-0,
Samuels 3-0-24-0, Pollard 6-0-25-1.
West Indies:
Chris Gayle run out 1
Johnson Charles b Mohammad Irfan 0
Darren Bravo c Umar Akmal b Mohammad Irfan 5
Marlon Samuels lbw b Shahid Afridi 25
Lendl Simmons st Umar Akmal b Shahid Afridi 10
Dwayne Bravo lbw b Shahid Afridi 0
Kieron Pollard c Wahab Riaz b Shahid Afridi 3
Darren Sammy n.o. 21
Kemar Roach c & b Shahid Afridi 1
Sunil Narine c Nasir Jamshed b Shahid Afridi 14
Jason Holder lbw b Shahid Afridi 0
Extras: 18
Total:(all out, 41 overs) 98
Fall of wickets: 1-1, 2-7, 3-7, 4-41, 5-41, 6-50, 7-51, 8-55, 9-98, 10-98.
Bowling: Mohammad Irfan 7-2-17-2, Asad Ali 5-0-13-0,
Wahab Riaz 5-1-8-0, Saeed Ajmal 7-0-25-0, Mohammad Hafeez
8-1-16-0, Shahid Afridi 9-3-12-7.
Image: Shahid Afridi of Pakistan
Photograph: Gareth Copley/Getty Images