Misbah-ul-Haq produced a crucial captain's innings to steer Pakistan to a four-wicket win over West Indies in the fifth One-day international in St. Lucia on Wednesday and secure the series 3-1.
Misbah, adjudged man-of-the-match, scored 63 as the tourists reach the winning target with one ball to spare at the Beausejour Stadium in Gros Islet.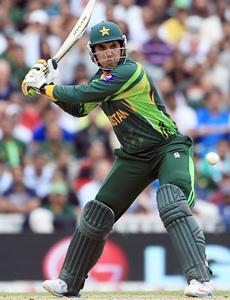 Pakistan finished on 243 for six wickets after chasing down West Indies score of 242 for seven, unleashing joyous celebrations in the sparsely attended stadium.
"It is very satisfying after losses in the Champions Trophy and after losing the series in South Africa earlier this year; this was a much needed win for us," Misbah told the post-match presentation, where he was also named man of the series.
A dramatic ending was almost thwarted by a sudden rain storm when Pakistan were 17 runs shy with 14 balls remaining, and had just lost Umar Akmal, needlessly out after a blistering 37 off 28 balls.
But after a brief delay, during which the players went off and the covers came on, Misbah returned with Shahid Afridi to finish off the job.
The outcome might have much different had Misbah been given out when West Indies reviewed a contentious decision by Australian umpire Paul Reiffel to turn down a catch claimed off Misbah's gloves when the score was 190-4.
Television replays were deemed inconclusive but the aggrieved West Indies reacted angrily with bowler Tino Best facing a possible fine over his conduct after a heated exchange with the umpire.
While Misbah was the catalyst for the win, opener Ahmed Shehzad laid the foundation with the game's top score of 64.
Earlier, West Indies needed another late cameo of lusty blows to unshackle a stranglehold placed on them by Pakistan's bowlers, of whom Junaid Khan was the best.
Captain Dwayne Bravo and Darren Sammy smashed their way to a 53-run partnership in just five overs near the end of the home team's innings to take West Indies to a respectable 242. Bravo top scored for them with 48.
Opener Johnson Charles led a charmed existence before finally falling for 43 while Marlon Samuels scored 45 but both were laboured at times as they found the bowlers difficult to get away.
The two countries now play two Twenty20 internationals at Kingstown, capital of St Vincent and the Grenadines, on Saturday and Sunday.
Scorecard
West Indies:
Johnson Charles c Haris Sohail b Mohammad Irfan 43
Devon Smith c Mohammad Hafeez b Junaid Khan 7
Darren Bravo c Umar Akmal b Junaid Khan 9
Marlon Samuels c Shahid Afridi b Mohammad Irfan 45
Chris Gayle c Umar Akmal b Junaid Khan 21
Lendl Simmons c Mohammad Hafeez b Saeed Ajmal 25
Dwayne Bravo c Haris Sohail b Saeed Ajmal 48
Darren Sammy not out 29
Sunil Narine not out 0
Extras (lb-6 w-9) 15
Total (for seven wickets, 50 overs) 242
Fall of wickets: 1-26, 2-44, 3-98, 4-131, 5-159, 6-170, 7-223.
Bowling: Mohammad Hafeez 6-2-22-0, Mohammad Irfan 10-1-34-2 (2w), Junaid Khan 10-1-48-3 (1w), Asad Ali 9-1-45-0 (1w), Shahid Afridi 5-0-30-0, Saeed Ajmal 10-2-57-2 (1w)
Pakistan: Nasir Jamshed run out 23
Ahmed Shehzad c Dwayne Bravo b Best 64
Mohammad Hafeez c Simmons b Sammy 11
Misbah-ul-Haq c Dwayne Bravo b Holder 63
Haris Sohail c Simmons b Best 17
Umar Akmal c sub b Best 37
Shahid Afridi not out 13
Saeed Ajmal not out 1
Extras (lb-5 w-9) 14
Total (for six wickets; 49.5 overs) 243
Fall of wickets: 1-51, 2-64, 3-123, 4-160, 5-226, 6-242
Bowling: Holder 9.5-0-47-1, Best 10-2-48-3 (2w), Sammy 10-0-35-1, Narine 10-0-42-0 (3w), Samuels 5-0-25-0, Dwayne Bravo 4-0-28-0
Result:Pakistan won by four wickets
Man of the match: Misbah-ul-Haq
Man of the series: Misbah-ul-Haq.
Image: Misbah Ul Haq
Photograph: Richard Heathcote/Getty Images