They still remember that stunning catch in the 1983 World Cup final.
Kapil Dev's diving effort, off Madan Lal's bowling, got rid off the ever-dangerous Viv Richards and played a crucial role in ensuring India their maiden world title.
- 'We let ourselves and South Africa down'
There have been many brilliant catches in cricket's flagship event thereafter. But few that have altered the course of the match.
Jacob Oram's effort at deep midwicket, in Friday's World Cup quarter-final against South Africa, to get rid off a well-settled Jacques Kallis is the latest addition to the latter category.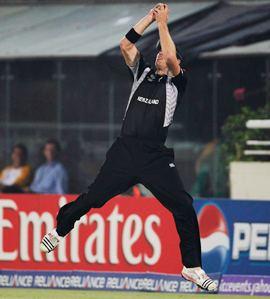 With South Africa comfortably-placed at 108 for two (in the 25th over), Kallis (47) pulled a Tim Southee delivery towards the midwicket. The shot seemed destined to go the fence till Oram took the blinder.
It proved to be a huge breakthrough for New Zealand and the South African batting fell like a deck of cards thereafter.
 Asked to explain that spectacular effort, Oram was elaborate.
"The beauty of it is fact that it wasn't in the air for long," he explained, adding, "For if it was there, a real skier and I had five-six seconds to think about it, maybe I would have skid underneath it."
The 32-year-old went on to explain what was going through his mind before he took the catch.
"My only thought was just to run, because he (Kallis) did hit it so well; I think what helped me was the angle.
"With a pull shot like that it almost curved back to the angle I was running on," explained Oram.
The all-rounder also revealed that catch could be possible because of a fielding change before the over.
"Thankfully, I am 6' 6"," gushed Oram, adding, "I had just replaced Kane Williamson there (midwicket) who is may be 4'6".
"So it was one bounce four if he was out there."
The 32-year-old was, however, elated that his catch made a significant difference to his team's fortunes.
"I was extremely happy with the catch because it ended a comfortable partnership that was going on for South Africa(between Kallis and AB de Villiers)," he admitted.
Oram also took another good catch at point to get rid of Dale Steyn, Nathan McCullum being the beneficiary on this occasion.
Besides, he ended up with excellent figures of four for 39 with the ball.
No points for guessing he won the man-of-the-match honours. 
Photograph: Getty Images