South Africa, says JACQUES KALLIS, learnt as much from the defeat to England as they did in the victory over India.
Many months ago we discussed the format of the World Cup and the fact that, barring a complete disaster, we would arrive at the final 10 days after six weeks of preparation facing the prospect of winning three matches to become World champions. So at least nobody can say they weren't prepared now that we are here!
It's exactly the same for the other seven teams, all of whom will believe they have an excellent chance of winning the Cup. Each squad will look at their opposition and clearly see a way they can win. There are no 'underdogs' left here. Anybody can beat anybody on the day. We have the best eight teams in the world.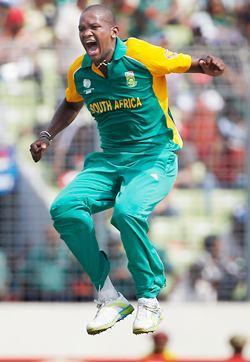 There were several very good games during the qualifying rounds and a couple that will stay in the memory for a very long time. Ireland's victory against England had us all on the edge of our seats and England's win against South Africa provided entertainment of the highest quality.
My favourite, however, was our match against India which ranks amongst my most enjoyable ever. We learned as much from our defeat against England as we did in the victory against India and that, really, was the point of the qualifying rounds.
We must take the lessons and our form forward, but leave the results behind. We can take confidence into the next week-and-a-half, but we must leave the runs and wickets behind. They mean nothing now. All that matters are the runs and wickets in the future, not the past.
Having said that, the form and fitness of the so-called 'reserves' in our squad has filled us with excitement. I cannot recall being part of a squad with so much depth. In the past, whenever people spoke about our chances of winning a tournament or a series, it was always followed by the phrase: "As long as XX stays fit." (Usually Allan Donald!)
But Lonwabo Tsotsobe and Wayne Parnell looked brilliant in their only game so far while Steyn and Morkel rested and Colin Ingram showed what a rare talent and calm personality he is by scoring vital runs in a pressure situation against Ireland.
If any team becomes afraid of making a mistake in the knock-out stages then they could become vulnerable. We will play with controlled aggression, always trying to take the initiative and control the game. There will be small mistakes along the way but we all back each other as individuals and we know, as a team, that things won't always go perfectly but that we can recover.
Although we are all very excited about Friday's game, there is also a calmness amongst the players. All you can do is trust in yourself -- trust in your talent and temperament and let nature run its course. We know we have the ability to win the next three matches. But we also know that the other seven teams believe they do, too.
- HAWKEYE COMMUNICATIONS / CHIVACH SPORTS