'We galvanise well together, we know what to expect. Fantastic performance from the guys with the bat and then following it up with the ball as well.'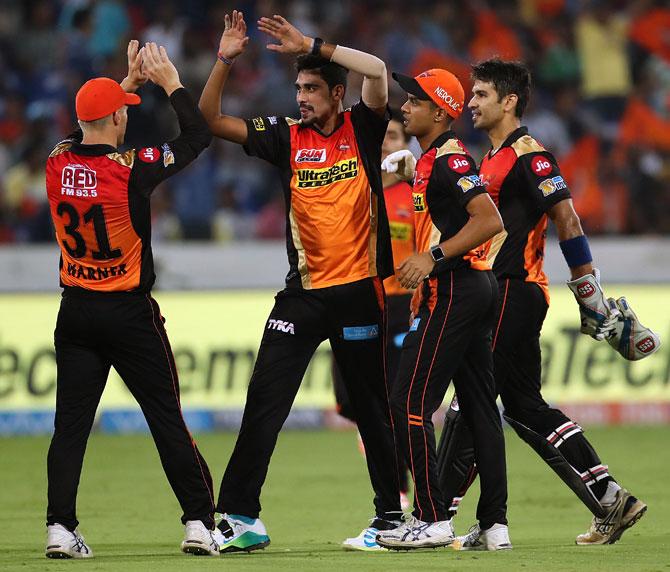 IMAGE: Mohammed Siraj, centre, celebrates with his Sunrisers Hyderabad team mates after taking a wicket. Photograph: BCCI
Sunrisers Hyderabad captain David believes his players have bonded well which is helping them come up with good performances in the ongoing tenth edition of the Indian Premier League.
"We galvanise well together, we know what to expect. Fantastic performance from the guys with the bat and then following it up with the ball as well," he said after Hyderabad's 15-run win over Delhi Daredevils, in Hyderabad, on Wednesday.

Warner later revealed he had hurt himself on the field after he was seen grimacing as he fell down on his back while taking a catch to dismiss Rishabh Pant off Yuvraj Singh's bowling.

"I hurt myself on the rib cage," Warner said after the match.

Warner praised Kane Williamson (89) and Shikhar Dhawan (70) for their 136-run second wicket stand which laid the foundation for Hyderabad's total of 191 for four after the hosts had elected to bat.

"It was an outstanding performance from the guys. Kane, first game for him this year, the way he and Shikhar played laid an outstanding platform for the guys," said the Australian.

Warner was generous in his praise of debutant Mohammed Siraj, who took two for 39.

"Delhi have an outstanding bowling attack with pace upfront. It was about tossing the ball to the youngster playing the first game or go to Bhuvi (Bhuvneshwar Kumar), our experienced paceman.

"We threw the ball to the youngster (Mohammed Siraj) and he came out on top. To come out and play the way he played, and Bhuvi was world-class again. Credit to the fast bowlers."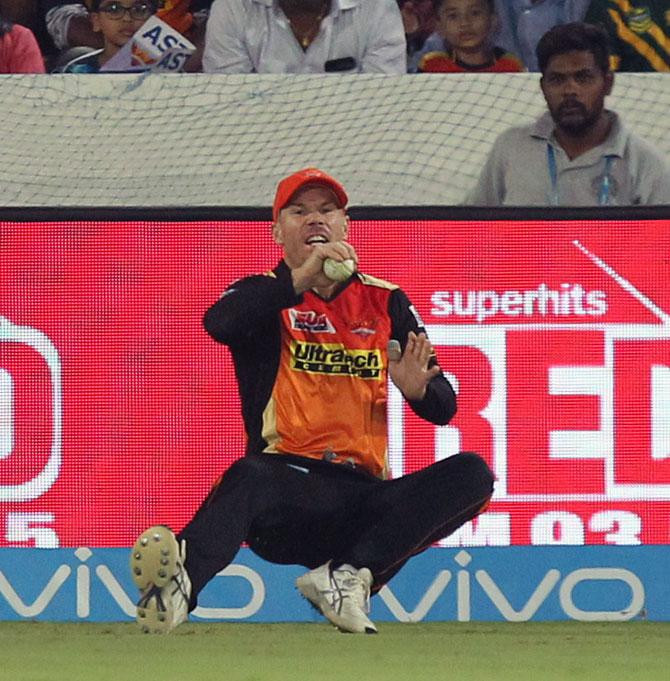 IMAGE: David Warner takes the catch to dismiss Rishabh Pant. Photograph: BCCI
Delhi captain Zaheer Khan said it was a great game of cricket even though his team finished on the losing side.

"180 would have been ideal to chase, but the last over I bowled is going to haunt me for a bit. Even with 190, we felt we had a good chance," he said.

"Bhuvi (Bhuvneshwar) was just fantastic, the lengths he is bowling and the rhythm he is in, he is helping Sunrisers defend."

Asked about Karun Nair's run-out which changed the scenario of the game, Zaheer said, "These things happen in the heat of the situation. But overall, the morale is good. We have been losing by small margins."

Man-of-the-match Kane Williamson said he was fortunate to get a chance, his first outing this season.

"Nice to get a game. The guys have been doing a fantastic job, so fortunate to get a game," said Williamson, who scored a 51-ball 89 in Hyderabad's 191 for 4.

"It was a very good surface, it was important to get a good score batting first. Once again, just those partnerships throughout were important and I think the icing on the cake were the couple of boundaries that took us past 180.

"Our fielding has improved, which is something we have focused on. I just got a little niggle, probably was not going to do the team too much of a service being out with the niggle."
'We are not relying only on one batsman or one bowler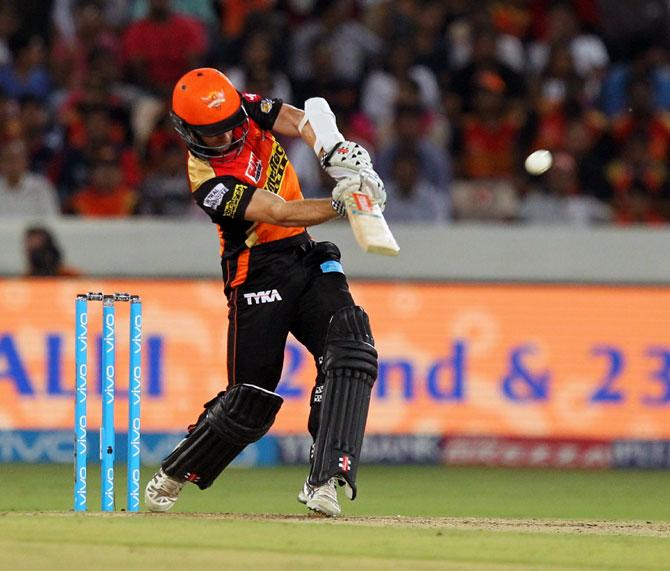 IMAGE: Kane Williamson hits out. Photograph: BCCI
Sunrisers Hyderabad mentor V V S Laxman feels his team is faced with a problem of plenty in the ongoing tenth edition of the Indian Premier League as newcomers have made it count at the first given opportunity.

Hyderabad are joint top in the IPL points table after beating Delhi Daredevils by five runs on Wednesday to register their fourth win from six games.

"I don't see any area of concern while we are under pressure, even though the matches are close. Having said that, we always look to improve," Laxman said after the match.

Laxman appreciated Kane Williamson, whose brilliant knock of 89 runs enabled SRH to pt up a challenging target of 192. He pointed out that the good showing from young pacers like Siddharth Kaul and debutant Mohammad Siraj has the given their side a lot of flexibility.

"With the new recruits we have got, we have plugged in the loopholes we had last year. Because of the new recruits, we have the luxury of fielding different playing elevens depending on the situation, depending on the opposition and conditions," he added.

"We are very fortunate to have a lot of talented players and unfortunately, because of the nature of the game, only eleven can play and only a few batsmen can play. It's really good to see that we are not relying only on one batsman or one bowler," he said.

Afghanistan's Rashid Khan, who made his debut in IPL this year, has already created an impact in the tournament with his consistent showing with the ball.

"He has got that X-factor. He has picked the wickets and he is bowling some tough overs. For a leg-spinner to bowl in the end, it shows the amount of confidence we have got in him," he said.