'It is a concern for us. In Test cricket four runs per over is a lot.'
Pacer Bhuveneshwar Kumar unfazed about dropped catch that cost him a five-wicket haul.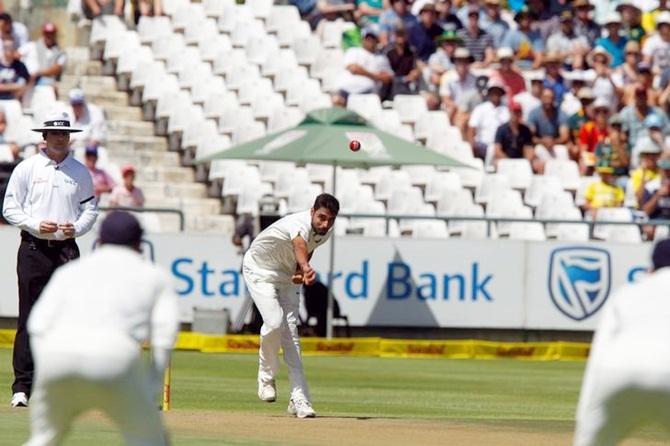 IMAGE: India's Bhuvneshwar Kumar bowls on the opening day of the first Test against South Africa. He finished with figures of 4 for 87. Photograph: Sumaya Hisham/Reuters
Pacer Bhuvneshwar Kumar was quick to concede that India's bowling attack gave away 30 runs too many as South Africa amassed 286 in their first innings, after being reduced to 12 for 3 in the first 30 minutes, on the opening day of the first Test, in Cape Town, on Friday.
"If we want to be hard on ourselves, then, yes, we did give away a few too many runs to South Africa. I think they scored 25-30-odd extra runs. In every hour of play there were 2-3 overs where we gave away easy boundaries. That is an area we can improve on," said Bhuvneshwar, at the end of the day's play.
South Africa maintained a run-rate of over four runs per over before ending with 3.90 in 73.1 overs.
"It is a concern for us. During the break also we were talking about bringing the run-rate down, because in Test cricket four runs per over is a lot. This is something we want to improve when we bowl in the second innings, but, overall, we are happy with the lines and lengths we bowled," he added.
Bhuvneshwar finished with figures of 4 for 87, but missed out on a five-for, as Shikhar Dhawan dropped Keshav Maharaj, who was yet to open his account then, in the slips.
The seamer, though, was not at all disappointed.
"No, I am not disappointed for not taking a five-wicket haul. This is part of the game and there will be other opportunities to take five-wicket hauls. Catches do win you matches and we want to improve this area," he said.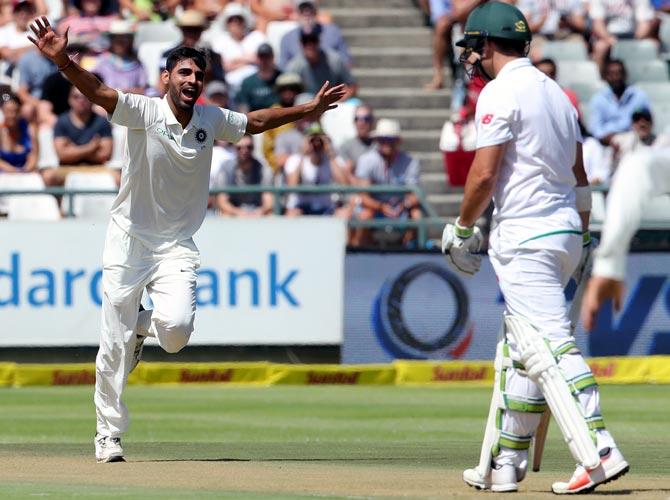 IMAGE: Bhuvneshwar Kumar celebrates after dismissing Dean Elgar. Photograph: BCCI
The bowler backed the slip fielders.
"The slip cordon has held some great catches in the past, so they will miss one or two. We do not go to bowl thinking they will not hold catches. We trust the slip cordon to hold their catches," he asserted.
He said the Indians were not surprised that South Africa opted to bat on a green-top wicket.
"We had a feeling that they would opt to bat first. It didn't really surprise us. We wanted to bowl first after winning the toss, so it was fine with us. They were good conditions to bowl first.
"The ball was seaming a lot for the first 10-15 overs. We were able to use those conditions to get the first three wickets in five overs," Bhuvneshwar said.
AB de Villiers played a counter-attacking knock and the bowler conceded that even after initial blows, the former Proteas skipper had taken away the session from them.
"When it comes to AB de Villiers, he is the best in the world and you have to be at your best to bowl to him. He was counter-attacking us and took the game from us. He didn't take it completely but he took the session away from us. It would have been good if we had got him out early," he added.
South Africa were reeling at 142 for 5 at one stage but recovered to reach 286 runs.
In order to get the lower-order out, the Indian bowlers attacked them with short-pitched bowling, a tactic that didn't necessarily work.
"It was a strategy to get them out. In the first two sessions, we didn't bowl short at all. In the third session, we wanted to get them out quickly and it was part of our planning.
"As a bowler, you want to go and bowl in helpful conditions in South Africa, England and Australia. But it is also important to bowl in the right areas, and they differ from bowler to bowler depending on conditions and the opposition," he said.
While India is struggling at 28 for 3, Bhuvneshwar feels that the game is still pretty evenly poised.
"I think the game is still evenly balanced on the first day. I wouldn't say that any one team is ahead. The only on our mind about what we want to do tomorrow is to bat well and bat for as long as possible," he opined.