After retiring from One-Day Internationals and serving a ban for using an illegal diuretic, Shane Warne is totally focused on Test cricket.
Three five-wicket hauls for Hampshire in the English county season this year make him believe he is fitter and more experienced to take on the Indians in the upcoming series.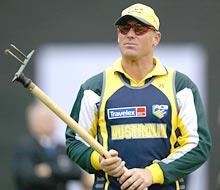 The ace Australian leg-spinner, who has 527 Test wickets to his name, had a lot to say, right from his diet to the difference between Ricky Ponting and Steve Waugh's captaincy when Cricket Correspondent Deepti Patwardhan caught up with him at a Mumbai hotel on Sunday.
"Ricky Ponting is more in the Mark Taylor mould. Steve Waugh is like Allan Border; he led by example. Ponting is all about imagination," he said.
Are the Australians better prepared this time around?
This is our best chance to beat India. It's not an easy task though. The team that's here now is better equipped than the previous two teams that visited here [India] in 1998 and 2001. Our batsmen are playing spin better than they are used to. Ricky Ponting is a huge loss, though. He is up there with any best batsman in the world. As captain, he's excellent.
What's so special about playing in India?
Indians want to see good cricket; they seem to know more about me than I know about myself. They like you and spin bowling. They are fanatical about cricket. I like to come here although I might get sick or get belted around. Probably this will be my last tour to India. I don't know if I will come back here when I am 39.
The only thing I have not experienced is winning a series in India and playing a major part in it. If I do well here we have a big chance of winning.
How will it be different for you, personally?
I had an excellent series in 1998 and 2001. In 1998 I had a shoulder operation; 2001 I had a finger injury. This time I am fitter than I have ever been and injury-free; touchwood! So I think I am in better shape. The real test of a spinner is how they play over here; it's the hardest place to ply your trade. 
In the first Test in India I got seven wickets, then I got six or seven in the first Test in 2001. I thought I bowled pretty well in Sri Lanka and also in County cricket for Hampshire.
At times I have bowled quicker, and at times slower here. I have not been a complete failure, like some people seem to think. I have had wickets at valuable times.
In 1998, the quicks did not perform as well as we would have liked; in 2001 we had better quicks. It was a very close series and India had the last bit. I could not bowl as well in the last Test. And in Kolkata, [V V S] Laxman made 281, it was one of the best innings played against us.
[Navjot] Sidhu was the hardest player to bowl at. He was the best player of spin bowling. The Indian players jumped at everything and did not allow my plans to work in the previous tours. It's when I attack that am at my best. But as a spinner you have to adapt; at times you have to bowl to a defensive line. We are a bit smarter now. 
Two Test tours in 15 years is not a lot to learn how to play in these conditions, whether you bowl fast or slow. Six Tests in 15 years is not a lot. I am quietly confident about the way we are going to play as a team.
How have you prepared for the Indian batsmen?
I have some plans for most of the Indian batsmen, mixing it up and different types of things. Hopefully, the plan will work this time. We will be getting used to the ball in the next ten days. Here they use the SG Test ball. It takes a bit of time to adjust.
Rahul Dravid is the key batsman today; Laxman and Sachin Tendulkar in the middle order; these three guys are the main bats. I will be targeting Rahul Dravid. We are good friends off the field, but on the field he's the best player and in form. He's the guy I will be targeting. He's on a roll; he's the rock.
In the two tours I have been here, I have had Rahul Dravid seven times. I don't know why my success is against him and not some of the other players. I know how to bowl to him. I think all the Indian players know to play spin. Rahul is as good as anyone in the world.
I have not bowled to [Virender] Sehwag. Same with [Akash] Chopra.  Sidhu, Tendulkar and [Mohammad] Azharuddin are all different players. Sehwag looks to go after you from ball number one.
What goals have you set yourself? The world record for most number of wickets must be on top of your list.
A series win is definitely the first priority, but from a personal point of view I need only six wickets for the world record. That's high on my agenda; but as I have found out over the years, some times you are close to a world record and you try too hard. If it doesn't happen you get frustrated. So I have got to be very patient. I won't say this would be a major swansong, but I would like to play a major part. I would like to get that record away in the first Test.
The key is knowing your own game and being patient. When I am patient I do well; when I am not, I don't do well.
I have to make a big statement with the bat too here, not only with the ball.
What will the Australian batting line-up look like in Ponting's absence?
We will be aggressive in our batting and we all have got our plans. We have batsmen like Michael Clarke, Brad Hodge. They might reshuffle the order, with Simon Katich going up to number three. We have some inexperienced Test players, but I have seen Clarke first hand. He's a super player. When he gets his chances, he will be sensational. We have so many left-handers. Our team has variety in batsmen and bowlers.
How good a prospect is Cameron White?
Cameron White is from Victoria, which is my state. We both work together on different things, like spinning his leg break a bit more. At 21, he's a very matured cricketer. If he gets a chance I am sure he will do well.