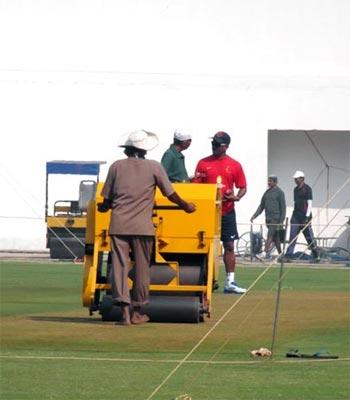 The track for the November 14-18 second and final Test between India and the West Indies in Mumbai is expected to behave in a fashion similar to the one on which the two teams fought out a thrilling draw two years ago, according to the Wankhede Stadium ground curator Sudhir Naik.

"It will not be a square turner like the one against England last year but will resemble the one against the West Indies of 2011, a slow turner with some bounce," said former Test opener Naik on Saturday.

In November, 2011, India were 242 for 9 while chasing the victory target of 243 to complete a clean sweep of the three-match series against the West Indies and had to be satisfied with a 2-0 winning margin.

"We had started our preparations four days ago," said Naik ahead of what is to be senior cricketer Sachin Tendulkar's farewell and landmark 200th Test in front of his home crowd that is set to include his mother.

Tendulkar had missed completing his 100th hundred by a mere 6 runs in the 2011 Test between the same opponents before achieving the feat in the Asia Cup in Dhaka in March, 2012.

The Wankhede track currently has a tinge of green but it is learnt that the 4mm
tall grass will be trimmed further before the start of the game.
The pitch prepared for the previous India-Windies Test had evoked a strong reaction from Indian off-spinner and man of the match R Ashwin who criticised it for its slowness and lack of bounce.
Ashwin had claimed nine wickets and hit a century in the match.
Meanwhile, the two teams are set to arrive in Mumbai, on Saturday evening.
West Indies, who lost the opening match of the series inside three days in Kolkata, are to start their preparations with a net session scheduled on Sunday morning.
"West Indies are to practice tomorrow morning. There won't be any practice on November 11 as both teams would be in MCA's Kandivali facility [for the felicitation of Tendulkar by MCA]. Both teams would practise on November 12 and 13," MCA sources said.