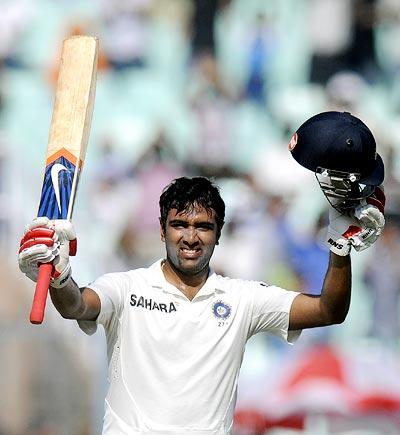 India's Ravichandran Ashwin has jumped to the number one position in the ICC Player Rankings for Test all-rounders by virtue of his stellar show in the recently-concluded first Test against the West Indies at Kolkata.

Ashwin played a sparkling innings of 124, his second Test century, and also recorded match figures of 40-11-98-5 to help India register an emphatic innings and 51-run victory over West Indies with more than two days to spare.

The performance in the first test at Kolkata not only improved Ashwin's batting and bowling rankings, but also helped him to leapfrog Bangladesh's Shakib Al-Hasan and Jacques Kallis of South Africa into the number-one spot in the all-rounders' list.

Ashwin has earned 81 ratings points and now leads second-placed Shakib by 43 ratings points.

In the ICC Player Rankings for Test batsmen, Ashwin has moved up 18 places to the 45th position, while in the ICC Player Rankings for Test bowlers, the 27-year-old off-spinner has gained two places and is now in sixth position.

Middle-order batsman Rohit Sharma and fast bowler Mohammed Shami, who made impressive debuts in the Kolkata Test, have also entered the ICC Player Rankings.

Sharma, who became the 14th Indian batsman to score a century on debut when he struck 177, lies in the 63rd spot in the Player Rankings for Test batsmen, while Shami's figures of nine for 118 -- the most by an Indian fast bowler on debut -- has helped him enter in the 53rd place in the Test bowlers' chart.

West Indies off-spinner Shane Shillingford and India fast bowler Bhuvneshwar Kumar are the other bowlers who also managed to improve their rankings.

Shillingford's figures of six for 167 has put him inside the top 20 in the 17th position for the first time in his career (up by four), while Kumar's two wickets have helped him
move into 87th place (up by 13).

The batting chart continues to be headed by AB de Villiers of South Africa, while his team-mate Dale Steyn is the number-one ranked bowler.
Image: R Ashwin
Photograph: BCCI