Admiration for Sachin Tendulkar has broken barriers. For a country that is accused of turning cricket into a religion, Neeta Kolhatkar says, the batting icon unified us all.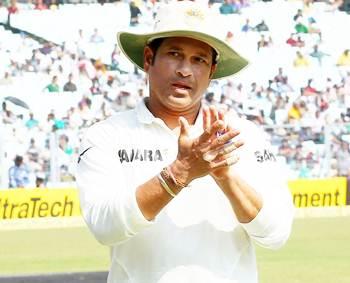 Guess the headline for this piece itself conveys what Sachin Tendulkar means to me and my beloved city, Mumbai. We love him, and many love to hate him too.
Since the last few days, the hype around his retirement and final match at the Wankhede has reached high decibel levels. Leading news organisations have signed up for advertising, milking revenues, as readers and viewers see the ultimate branding and marketing gimmick this country has seen in a long time. And only for this reason have I hoped the man should've retired many years ago. But, then, it's my deep-rooted belief that since we are mortals, each one of us is dispensable, however much we may revere or admire someone.
I have seen and covered Sachin's batting spectacles for over 20 years (I finally gave up following cricket as a journalist), but enjoyed covering every moment of cricket as a sport.
Sachin, meanwhile, had entered the international cricket arena, and was on the threshold of becoming captain in two years when I interviewed him. From a soft-sounding lad to becoming a captain who had got frustrated handling too many temperaments and power lobbies, he opted for doing what he was best at, batting.
This fine young man has given me and millions of the city fantastic moments, sometimes making us sit up, sometimes grieve, but, most of all, he gave us HOPE. We don't realise how most people pinned their unfulfilled dreams and hopes on his shoulders.
Yes, he has extraordinary talent, is a genius and is understated in his emotions. He doesn't pump fists in the air, mouth abuses or put down opponents. It is interesting to see how each person feels they see in Sachin something they have aspired for or found lacking in themselves.
Years ago, when Sachin became the favourite of all leading brands and he'd step on the field, I realised, he was an ambassador to a horde of brands from head to toe. Right from the helmet to the shoes he wore.
In his personal life, the cars he uses, the brands he wears, he actually must be one rare human being in the world who is the face for a wide range of products and brands. He is worth multiple crores of rupees.
At one time, I voiced my feelings to somebody close to him that it was time for him to leave, and I was told there was intense pressure from the various companies and the Board of Control for Cricket in India.
Recently, another person told me I may be fond of him, but I need to realise that brands want youngsters.
Interesting! Why is it then we don't see hordes of young Indian cricketers as faces for those brands that Sachin was the face of? Over a period of time I realised it has become a fad to criticise Sachin.
The gullis and alleys of our city have encouraged every kid to aspire to become a Sachin, and then there's our culture that encourages everyone to become an expert on every subject and everybody. Intense debates on cricket and 'Tendlya', how he should've played a particular shot, how he goofed up and how stupid of him to have done what he did. Not that any of these even do one-tenth of what they expect of Sachin in their own lives.
In reality, if they even had to stand in front of a Brett Lee, they'd actually pee; but, then, we Indians are gyaanis and love to criticise everything.
Most who love cricket and Sachin want to own a piece of him. Many sound condescending, many will talk as if they are close to him. It is a personal feeling for many. For a country that is accused of turning cricket into a religion, Sachin unified us all. Admiration for him has broken barriers.
A child on the street who has nothing vends Sachin masks happily, while the rich who want to be seen sitting in the stand next to him also get a chance. I've seen how politicians have forgotten their personal clashes and party politics to sit together to watch him play.
Sachin's games means a lot for Maharashtra politics. It is amusing, to say the least.
The mood in the corridors of Mantralaya and the state assembly on the day of India's crucial matches is 'tense', especially if Sachin is playing. Politicians make it clear that it is a day for 'no-story'. Most vie to get a seat in the VIP box; at that time they all synchronise their exit timings, use luxury car-pools and, yes, cell phones are switched off.
If Sachin would play well, politicians would be nice to talk to, else 'no comments, how can you ask political questions; see how Sachin got out,' was the usual pattern.
Sachin's matches are most-seen in offices, and at showrooms that display television sets, where it is a festive mood.
Indian corporate offices, initially, didn't take too kindly to staff bunking, because the volatile environment never permitted them to use their imaginations to allow the staff to watch cricket matches in offices. The multinational companies (MNCs) have more friendly cultures and encourage cricket viewing. Fact is, across power positions, Sachin's game is keenly watched. The last match will be hyperbole of all the above.
All eyes are on one man, Sachin. I honestly wish he gets one day in his life to play only for himself and the way he wants to. The pressure that he should get his 100th century and the last day of his professional game, I would never wish such times on anyone, as none of us would ever be able to understand the pressures. Whatever he scores would be by the way.
For me, as an admirer of Sachin, a Mumbai denizen, I have already got his parting gift -- the Ranji Trophy win for Mumbai. That is important for this city and the sport, cricket.
And while he has moved up and changed base to Bandra West, as a Mumbaikar, I think, it is important that we don't forget that his roots are from Bandra purva (east), the not-at-all la-di-da side of the city!