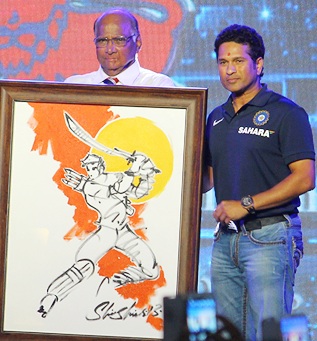 There was a see-saw witnessed on the cyberspace to buy tickets for Sachin Tendulkar's 200th and last Test match.
A day after Kyazoonga.com, crashed due to heavy traffic, it announced that all the tickets made available to them by the state cricket association were sold out within 15 hours of going on sale.
Kyazoonga.com officially sold the tickets for Sachin Tendulkar's 200th and final Test match.
-200th Test: Fans' frustration grows as website selling online tickets crashes
The official ticketing partner for the second India versus West Indies Test from November 14-18 at Mumbai's Wankhede Stadium, was swamped with huge number of surfers, who wanted to buy tickets for the much-awaited match and, during this time, the website received sustained amounts of traffic and demand remained unabated till the very end.
It witnessed record number of hits - more than 19 million - within its first hour of ticket sales.
The Mumbai Cricket Association (MCA) had decided to sell just 5000 tickets online to the general public.
"The objective of the organisers to ensure wider reach was realised by ensuring no person was allotted more than two tickets. For successful buyers, tickets will be available for pick-up starting Tuesday afternoon at the Mumbai Hockey Association counters next to Wankhede Stadium. Customers must bring the required validation documents as outlined on the site and in their confirmation page," the website said in a statement.
Around 3,000 tickets were made available for sale, excluding the 1,500 special tickets priced at Rs 10,000. The price category for the online sale was -- Rs 500, Rs 1,000 and Rs 2,500. The Wankhede has the capacity to seat 32,000 people.
On Monday, hundreds of fans wishing to watch Tendulkar's farewell Test had protested outside the Wankhede Stadium after learning about MCA's move to sell the limited tickets meant for general public online. Fans started shouting slogans against the administrators when they were told that tickets would only be sold online.
Image: Sachin Tendulkar (right) with Sharad Pawar
Photograph: Hitesh Harisinghani