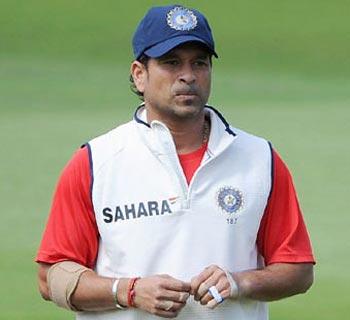 Cricket fans poured out their frustration on the internet on Monday, as they were unable to access the website selling online tickets for Sachin Tendulkar's 200th Test match.
KyaZoonga.com was the top trending topic of the day as most fans took to Twitter to voice their anger.
@RonakShah1010 wrote: "Cmon @kyazoonga be man enough to give an official statement about this crash. 4 mins to go and a million ppl waiting on u. Not Acceptable."
@TheGhyGuy tweeted: Better chance of getting tickets in counter queues. Even better chance of winning a contest to meet Sachin. #Kyazoonga #Fail".
Some went on to compare KyaZoonga's massive failure with IRCTC's booking service.
@AspiringTripper tweeted: #KyaZoonga Is the new IRCTC! Such Roles reversals!
KyaZoonga hasn't released an official statement yet.
Earlier, a Mumbai Cricket Association official said the website KyaZoonga.com will be up and running by 11 IST, the scheduled time for start of ticket sales.
"We spoke to kyazoonga.com and they said they are working to get the website running. They said they will install 12 to 13 servers to handle the huge load of traffic," a MCA official told rediff.com.
"They have assured us that they will get the website working by 11am."
An official also said on Twitter.com, "We are using waiting room technology since inventory isn't deployed yet. Sales will begin at 11. Servers aren't down."
A total of 5000 tickets, which have been made available for the general public, will be sold online.
The second Test between India and West Indies will be played at the Wankhede Stadium in Mumbai from November 14 to 18. This will also be batting icon Tendulkar's final match.