Sachin Tendulkar on Saturday announced that he is fit for the upcoming season, adding that he will take part in the Irani Trophy match ahead of the Test series against Australia next month.
Answering queries about his fitness, Tendulkar said: "I think I am fine. Yes, I will participate [in the Irani Trophy]."
 Kids have a ball with Sachin
The veteran along with son Arjun took part in a promotional campaign in Mumbai where he played a fun-filled cricket matches with 15 parent-kid teams.
Tendulkar had to opt out of the ODI series in Sri Lanka last month after being ruled due to an injury in his left elbow.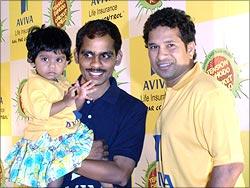 However, he assured that his injury woes are behind him and he is ready to play for the Rest of India squad against Ranji Trophy champions Delhi in Baroda, starting on September 24.
The Board of Control for Cricket in India has already indicated that all Test probables would have to take part in the Irani Trophy game, the squad for which will be picked on Sunday.
"The selectors will be picking a virtual Test side, barring those belonging to Delhi, when selecting the Rest team," BCCI secretary Niranjan Shah had said.
The season-opening domestic fixture has assumed importance following a poor showing of some senior batsmen on the just-concluded tour of Sri Lanka, which saw India lose the Test series 1-2.
Tendulkar also made it clear that he would not be featuring in a Bollywood movie as was reported few months ago.
It was said that the ace Indian batsman would play himself in Vighnaharta Shri Siddhivinayak a film about the hindu God Ganesha, who is sometimes referred to as Siddhivinayak.
"There was a misunderstanding about the film," Tendulkar clarified. "I was told there was a documentary being made on Ganpati and I was told a few are sharing their views on the same.
"I was also told to do the same and I agreed to do it and reveal how much peace I get by visiting Siddhi Vinayak Temple. There was no more discussion on the same. If they want my views on Siddhi Vinayak, I am ready to do it."
The master batsman took the opportunity to congratulate Olympic medal winners Abhinav Bindra, Vijender Kumar and Sushil Kumar, saying it was a proud moment for our country.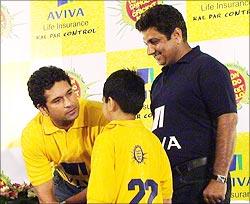 "It is a proud thing for all Indians that we won medals. It was not only the medal winners but the entire team who spent years preparing for the Games, so I congratulate the entire Olympics team.
"The athletes are remembered only if they are successful, but everyone works hard in which some win and some lose. So we must congratulate everyone because I believe it was team work that did the trick."
He also advised the authorities to provide more facilities to other sportspersons so they could prepare well for the future Games.
"I am sure we will win more medals in the future but for that we need infrastructure. We heard from all sportspersons that we do not have proper facilities, so the associations must step in and give the required facilities. We must help them and give them proper conditions to prepare for the Games so they can perform at their best," Tendulkar added.
Tendulkar also revealed how he ends up playing wresting with his son and not cricket.
"We watch WWE and we end up practicing those moves. I must say I cannot underestimate his strengths."
Photographs: Uday Kuckian