The absence of big names such as Sachin Tendulkar and Zaheer Khan notwithstanding, Mumbai skipper Rohit Sharma is confident that his team would prove to be quite a handful for hosts Rajasthan in their Ranji Trophy match starting in Jaipur on Friday.
-Rohit Sharma to lead Mumbai against Rajasthan
Rohit said though Tendulkar and Zaheer would be missed, the Mumbai team was used to playing without them.
-Mumbai take three points from Railways match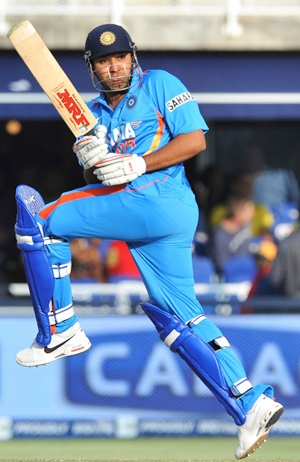 "Yes they played brilliantly in the first match against Railways and would surely be missed but they were there only for one match. For quite some time now Mumbai has to play without them because they are busy serving the country," he said at the KL Saini stadium in Mansarovar.
-Champions Rajasthan concede three points to Bengal
"But we have some promising youngsters like Sardul Thakur and Akhil Hairwadkar so we are capable of putting up a tough fight. We have seen the wicket at Mansarovar and it will be a new one for us because most of us have played only at Sawai Man Singh stadium," he added.
On the other hand Rajasthan who conceded the first innings lead to Bengal would be looking to exploit the weakened Mumbai.
"We are confident and surely they would be lacking the experience of Sachin and Zaheer but we won't be taking them lightly because we know the depth of Mumbai cricket," said the host skipper Hrishikesh Kanitkar.
"Our bowlers led by Pankaj Singh did a good job but they will have to be more consistent. A few bad deliveries after a good spell releases the pressure. They have to show a bit of more control."
"Deepak Chahar would provide more options if he is 100 percent fit. We are also looking to a big innings from Ashok Menaria who recently hit a fine hundred against New Zealand 'A' on bouncy wickets," he added.
Kanitkar said the playing XI would be decided later.
Photograph: Duif du Toit/Gallo Images/Getty Images